The introduction of the 3-point line forever changed the way basketball is played. The 3-point line — much like the shot clock sped up the game — allows for more spacing by the offense and the opportunity for shooters to better take advantage of their craft.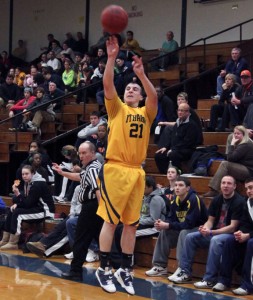 The men's basketball team, 18–5 overall and 11–3 in the Empire 8 Conference, is one of the deadliest from downtown in Division III. The Bombers are shooting 38.8 percent from beyond the arc, good enough for 19th in the nation, while their 10.9 3-point field goals per game ranks fourth in the country.
Head Coach Jim Mullins said while Division I basketball is geared toward a more athletic, cut-to-the-basket style game play, Division III is about finding good shooters who may not have the athleticism or size to play at the Division I level.
"Really for the last three years this has been our style of play, and we've recruited accordingly," Mullins said. "We're particularly strong at the guard position, and when we get the movement in our offense going we usually shoot pretty well."
The Bombers' two best shooters from downtown this season are junior guard Jordan Marcus, who through Tuesday's game is shooting 44.1 percent, 80 of 181, and sophomore guard Andrei Oztemel, who is shooting 41.6 percent, 80 of 192. Jordan said the Bombers' style of play is what attracted him to Ithaca College.
"We have the green light from anywhere on the floor," he said. "We make sure we're not taking terrible shots, but if we feel like we can make it, coach has faith that we will."
Jordan, who is shooting 10 percentage points higher from three this season than he did last year, said he worked all summer to improve his shot and become a smarter player.
In the Bombers' 94–89 loss to Utica College on Feb. 5, Jordan had a stretch in which he made six 3-pointers in a four-minute span during the first half. Jordan finished with nine 3-pointers for the game — one shy of the school record.
"Sometimes you just get hot and feel like you can't miss," Jordan said. "The hoop starts to look bigger and everything keeps going in."
Oztemel, who has become somewhat of a 3-point specialist, attempting 185 of his 220 shots this season from distance, said not a lot changed in his game from last season when he drove to the basket more often; he just feels more comfortable in the offense.
"I have become more of a wing-type player, so I'm getting more open shots," Oztemel said. "Also, it has to do with personnel. We're trying to spread the floor so [senior Phil Barera] can work inside, and that involves working the perimeter and shooting more jump shots."
Marcus and Oztemel even have a competition going to see who will finish the season with more successful 3-pointers, Marcus said.
"We joke about it in practice all the time," he said. "It's all in good fun. We're both competitive people and want to win and that pushes us to do better."