When the field hockey team started off 1–3 this season, it still kept up its hopes of hosting an Empire 8 Conference playoff game.But following their most recent loss against Stevens Institute of Technology on Saturday, the Bombers find themselves in a much deeper hole.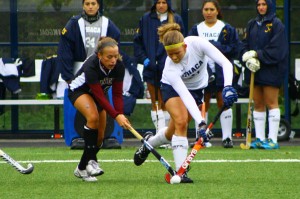 Junior forward Julia Conroy said the loss to the Ducks was the most devastating the team has had this season. She said the Stevens Institute of Technology was the Bombers' nemesis because they had played so many close games against them within the past few years.
"They're definitely our biggest rival since we don't like them and we know they don't like us," she said. "We always seem to match up well with them, but we can never pull it out in the end."
The recent 6-1 loss dropped the Bombers to 1–2 in the Empire 8 Conference play, while Stevens Institute of Technology is 2–1. Though the records are similar, the Blue and Gold fell from second to fifth place in the Empire 8 after the loss, while Stevens sits behind Washington and Jefferson College and Utica College for the conference lead at the halfway point of the season.
Though the score from the game Saturday was lopsided, Stevens  Institute of Technology Head Coach Emily Beach said she was impressed by the Bombers' resilience on offense after they trailed 3-0 going into the second half.
"They certainly didn't roll over after we got on top early, and I was impressed with the way they could penetrate through our block
tackles," she said.
Since the Ducks joined the Empire 8 Conference in 2006, the South Hill squad has only picked up one win against them — a 2-1 overtime victory four seasons ago. Four of the five losses between the two teams have been decided by three goals or fewer.
Senior midfielder and back JulieAnne Butare said the Ducks' potent offense kept the South Hill squad on its toes for all 70 minutes of the game.
"Their offense has the ability to strike quickly at any point and push the ball up the field," Butare said. "They'll make you pay if you get lax out there."
The second half of the Bombers' regular season schedule alternates between conference and non-conference games, as the team has two Empire 8 home games left. Butare said the setup would strengthen the Blue and Gold's ability to game-plan against their opponents.
Sophomore midfielder and back Emily Lash said the three one-goal losses the team has suffered would help it channel its energy toward performing more consistently.
"Like most of our losses this year, we just have to learn from it and use it as motivation," she said.
Additional reporting by Sports Editor Kevin McCall.