The quick transition from offense to defense in basketball makes it different from all other sports.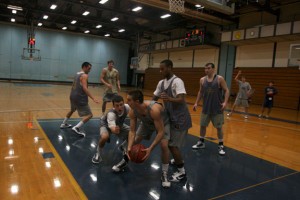 No sport features as many changes in possession and as many opportunities for teams to have successful possessions. In professional basketball, defense is often an afterthought in a fast-paced, high-scoring league. In the college game, however, playing solid defense can be the foundation for a great team.
The increased focus on the defensive side of the ball has fueled the men's basketball team in their 5–2 start. Since surrendering an average of 83 points per game while struggling to a 2–2 start, the Bombers have only given up an average of 70.3 points per game en route to three consecutive victories.
Senior guard Chris Cruz-Rivas said defense has been a recent point of emphasis for the team.
"These last few games the coaches have really been looking for players to step up on the defensive side," Cruz-Rivas said. "The intensity just wasn't there those first few games, but we've really picked up the slack in these last two games."
In their victory Friday at St. Lawrence University, the Bombers allowed just 60 points — their fewest total allowed since they held Nazareth to just 54 points in a win last January.
"We've really focused on communicating and talking to each other more on defense," Cruz-Rivas said. "We've been a lot better this year at switching on screens and providing help-side defense when it's needed most."
Head Coach Jim Mullins said the disappointment the team felt after its 95–83 loss Nov. 28 to SUNY-Oswego was key to the turnaround.
"We held a team meeting and let the players know that their play had been unacceptable to that point," Mullins said. "Since that meeting we've been defending better as an entire team, and the players have fully bought into our defensive concepts."
Mullins has emphasized disrupting passing lanes and forcing the offense to try to make mistakes. The Bombers have not allowed as many open looks this season and have been forcing opponents to take more undesirable shots.
Freshman guard Christian Jordan and the improved play of sophomore forward Andrei Oztemel have also helped spark the defense, Mullins said.
"Christian really came in here with a reputation as a great defender," he said. "Time to time he'll get a little lost in the defense because of his aggressiveness, but long-term we project him to be the kind of lockdown defender that can dominate in this league."
Otzemel, who saw significant playing time last season off the bench, struggled early this season to establish himself on the defensive side of the ball.
"We had a tendency as a team to just wait around for [senior center Phil Barera] to grab the rebounds," Mullins said. "But Andre is a big strong kid, there is no reason why he shouldn't be pulling down just as many rebounds."
Oztemel said the competition in practice has allowed him to become a factor on the glass.
"The coaches were really getting after me to go after rebounds and use my size," Oztemel said. "Going up against a player of Phil's caliber, a guy who is as intense as anyone, in practice every day, has helped me become more aggressive going after rebounds and loose balls."
Oztemel said the team is meshing together on defense and each athlete's game experience from last season is translating to success this year.
"We have really bought into what the coaches are preaching defensively, and more players are comfortable having it be their second or third years getting playing time," Oztemel said.