In Major League Baseball, February and March are months when players are working out the kinks from the off-season and getting ready for the long season ahead.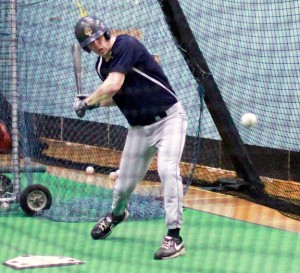 In college baseball there is no spring training — no time for hitters to face live pitching in a game setting before the season starts.
It had been nearly nine months between games for the Bombers, but that did not stop them from scoring 44 runs in three victories this past weekend.
The Blue and Gold routed the College of Mount Saint Vincent 17–1 Friday, SUNY-Old Westbury 11–2 Saturday and No. 27 SUNY–Plattsburgh 16–3 Sunday.
Junior pitcher Brian Eggleston earned Empire 8 Pitcher of the Week for throwing six innings of one-hit ball in the victory against Mount Saint Vincent, and fellow junior Teagen Barresi earned Empire 8 Player of the Week, collecting five hits in the first two games, and hitting one of the Bombers' four home runs Sunday.
Graduate student and third baseman David Ahonen, who scored four runs, drove in three and hit a home run during the weekend, said the team was not trying to put too much stock in these games but wanted to start the season off right.
"I don't know if there was a huge emphasis on these games," he said. "We were just trying to go 1–0, then 2–0, then 3–0. We just wanted to get off on the right foot, and our bats came out on fire."
Ahonen said there was a little extra motivation to beat Plattsburgh, which qualified for the NCAA tournament ahead of the Bombers last season.
"Knowing that they finished ahead of us last year, we wanted to send a message that the Bombers are back and playing Ithaca baseball again," Ahonen said.
With temperatures barring the team from practicing on Freeman Field, the Bombers have had most of their practices in one of the Hill Center gyms. The squad returns four of its top five hitters in runs-batted-in and total hits from last season.
Senior first baseman Trevor Wolf said he knew the guys could hit in the cage, but he didn't expect this kind of offense so early in the year.
"I knew we had one of the better lineups out there, but you're never expecting to average 15 runs a game," he said. "It takes a little while to get re-acclimated to facing live pitching outside during games, so for us to put up that many runs three games in a row was a nice surprise."
These three tune-up games will be crucial for the Bombers as they get ready to head west during spring break for their annual trip to California. While in California, the team will face three teams currently ranked in the top 25, including No. 2 Kean University.
Head Coach George Valesente said the team enjoyed a strong few weeks of indoor practice but said the team still has a lot of work to do.
"We weren't sure if we would be able to have our strong practices carry over into positive game results," he said "Our guys have this attitude where it's a relentless pursuit to keep improving."
Valesente said the upcoming trip will allow the Bombers to see how good they really are.
"This group seems to have their feet on the ground and understands that we have to take things game by game — pitch by pitch — even," he said. "Knowing that we have a few games under our belt should help us, and that'll help carry us to some wins out there."