While the baseball team is off to its best start in Empire 8 Conference play in three seasons, each player's appearance is also speaking volumes about the Bombers' unity this season.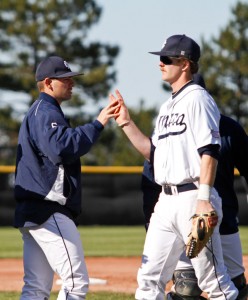 The Blue and Gold have traditionally been a clean-shaven group, but each player is donning a mustache this season as a team bonding activity. Senior outfielder Mike Rosenbaum said the facial hair has become a signature look that has turned opponents' heads.
"Everywhere we go someone's like, 'Oh cool mustache,'" he said. "It's so funny because all the teams say something to us."
Along with mustaches, the South Hill squad is sporting striped stirrups with their socks, a trend that has waned among baseball teams. Rosenbaum said the retro external appearances are a tribute to the fashion and gritty mentality of the Bombers' national championship teams from the 1980s.
"I've always been in the exercise room working out, and I always look at the pictures from the '80 and the '88 teams," he said. "And back then they were tough teams, and they had mustaches. Coach even had a mustache."
Head Coach George Valesente said participating in the renewed ritual supports his team's actions.
"I don't ever consider myself or my coaches separate from the group," he said. "So we try to follow the same kind of things that the team does."
But Valesente needed some convincing from his team to sign off on the mustaches and stirrups. He normally does not allow his players to grow facial hair, but while on the spring break trip to California, he struck an agreement with his players.
"If they beat Chapman University twice I would buy stirrups," he said. "And then the mustache thing came. If they beat Pomona-Pitzer College and Claremont-Mudd-Scripps College and Tucker Healy grows a mustache, I'll grow one."
The Bombers outscored Chapman 8-2 during the two wins on March 11 and 12 before defeating Pomona-Pitzer 9-5 on March 16. They also defeated Claremont-Mudd-Scripps 4-3 in 10 innings.
Valesente said growing the facial hair has brought the team close.
"When a group of young men decides that they want to try to do something as a team, the togetherness can have a nice effect on the team," he said. "Do I think it affects the outcome of games? Not necessarily. But the ability to be together does."
Since the spring break training trip to California on March 11-18, the South Hill squad has gone 9—1—1 on its way to a ranking of 23rd in Division III.
Senior infielder and outfielder Teagen Barresi said the positive feelings surrounding mustaches and stirrups have been accompanied by desirable outcomes. He said the team would not shave them until it reached the NCAA Division III Baseball Championships, which are scheduled for May 25-29 in Appleton, Wis.
"Wins are correlating to good things," he said. "The mustache growing has kind of taken on a life of its own."