Every season, spring break is an opportunity for the men's lacrosse team to become a tightly knit squad and compete at a high level in California. This year, though, it was looking for more than team bonding; it also hoped to gain its first win of 2010.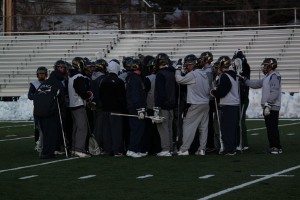 Because of early-season practices and several solid returning players, from day one, the squad knew it had the talent to be national championship contenders. But after some tough losses in the beginning of the season, it was gut-check time for the team going into the California trip.
"We all expected to win," senior Roniel Bencosme said. "We needed a sense of urgency because we know we have the talent, but now we know that even though we have it, we still have to work hard because it's not just going to happen. We have to make it happen."
After being beaten by considerable margins in their first three games of the year, the Bombers had no choice but to dedicate themselves to working harder and competing in practice.
"We learned that it doesn't matter how much talent we have," Bencosme said. "We want to forget about it but want to make sure we never feel that way again."
Now humbled by his own struggles, each athlete is taking the extra step to work harder, making that competition in practice flourish. The sun of California could not have come at a better time and was a refreshing change from the cold of New York.
"It was relaxing to get away from school," junior David Gal said. "It gave our team a really good chance to get together and to start over, especially with the rough start we've had."
The change of scenery and those extra efforts in practice were rewarded in Ithaca's first game on the West coast against Whittier College. The 11–3 victory is a game that the team will build on for the rest of the season.
"We had a good speed throughout the game and put together a full, complete 60 minutes, which we've had a rough time of doing lately," Gal said. "It really came together."
The 11 goals were the highest number of goals that the Bombers have scored this season, while the three goals Whittier scored were the fewest they had allowed.
Yet after moving to 1–5 on the season by losing to Fairleigh Dickinson University at Florham during spring break and SUNY-Oneonta yesterday on the road, the Bombers know they still have to work on playing as one when they return to Ithaca.
"We need to keep the same together attitude and that really close relationship," Gal said. "We also need to keep everything the same as we did in California."
The difficult start will stay with the squad throughout the season, as its chances of an at-large NCAA Tournament bid are all but over. A bright spot remains, though, in the fact that the Bombers have not even started their conference season, which starts Wednesday at St. John Fisher College.
"It's frustrating right now because our play is so off and on," junior Kevin Ferris said. "Fortunately, Empire 8 play is like a brand-new season, and that's the mentality we need to approach it with. It still is an uphill battle, but it's one that can be conquered."
With that in mind, the squad still has the confidence and hope of reaching its ultimate goal of the season.
"We all truly believe that with the talent we have, we still have the potential to be national champions," Bencosme said. "And that's just the flat-out truth."