When the men's lacrosse team begins its arduous Empire 8 Conference schedule this season, it will possess an arsenal of veterans and younger players on its attack, who have been the driving force to a 5—3 overall record.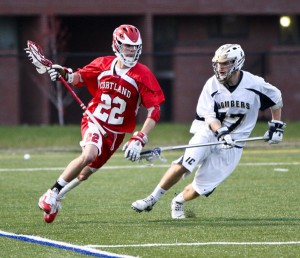 The Bombers currently rotate four attackmen in each game: sophomore Pat Slawta, freshman James Manilla, and seniors Tom Mongelli and Devin Weinshank. They will add senior Jay Lucas to the rotation when he is eligible to play.
Because he began playing for the Blue and Gold at the end of the 2009 regular season after transferring from the University of Massachusetts, Lucas must sit out until Empire 8 Conference play begins with a game against Alfred University on Wednesday.
Weinshank said adding Lucas to the attack rotation would create unique problems for conference and nonconference opponents.
"It's good that we have five attackmen because the defense always see someone different every quarter, and every one of our attackmen have a different style," Weinshank said.
Mongelli said Lucas will have to earn back his starting role from last season because sophomore attack Pat Slawta and freshman attack James Manilla have been the Bombers' top contributors early in 2012.
Lucas had 13 goals and 17 assists playing as a midfielder last season, but will be making the switch to attack to replace junior Andrew Bruce, who is playing at midfield this season. Head Coach Jeff Long switched Bruce to midfield because of his 8-inch height advantage over Lucas.
Manilla said he has been able to apply Lucas' ability to motivate the team and acknowledges his playing time will be cut when Lucas returns to the lineup.
"He knows the game as much as anyone, and he's a great leader,"
Manilla said. "He's the guy you want to have the ball in your stick because he's such a good playmaker."
Manilla, who has started every game and registered nine goals and six assists this season, has acted as the X Attackman, working behind the net for the South Hill squad. Manilla said he must not only be a scorer for the team, but also have the ability to orchestrate offensive plays.
"I don't like to keep the ball in my stick for too long," he said. "I like to set up my teammates for opportunities, but when I like my matchup, I like to test my guy and dodge him a little bit and try to get a couple of goals, if not create
a pass."
Mongelli said Manilla's speed and perception on the field have led to his early success on offense.
"He's real quick when he has the ball and he's real shifty," Mongelli said. "He keeps his feet moving and within the first five yards he is able to beat his man."
Slawta's emergence has also added another dimension to the Bombers' attack this season. He has already eclipsed his point total from last year by nine, picking up 20 points.
Mongelli said Slawta's intelligence makes him an invaluable part of the offense.
"He is able to make decisions real quick and real easily, and most of the time they are the right decisions," Mongelli said.
Mongelli said the five attackmen work well together and are each capable of making an impact on the outcome of a game. He said winning games matters more to the entire attack unit than the playing time.
Slawta said the offensive system will strengthen the team as it prepares to compete against Empire 8 opponents such as Alfred and Nazareth College.
"Our offense this year has been very fast and fluid," Slawta said. "We don't really have a weak link, which is one of the best parts about our team."