The women's soccer team's 2011 season nearly ended after it was upset in the semifinals of the Empire 8 Conference Tournament over the weekend, but the Bombers clinched an at-large bid to the NCAA playoffs.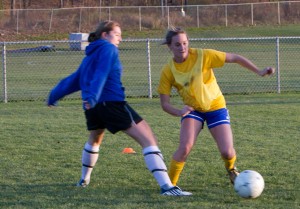 Despite having an overall record of 11–2–3 and winning five of seven conference games, the Bombers entered the Empire 8 Tournament as the third seed before falling to second seed Nazareth College.
The Bombers were most inconsistent in offensive intensity this season. When the Blue and Gold scored the first goal of the game, they had a record of 11–1–3. But the team lost two of the three games, including its 3-1 loss against Nazareth on Saturday in which it allowed its opponent to get on the scoreboard first.
The Bombers went 7–0–2 through their first nine games, outscoring their opponents 28-7 over that nine-game span. Five players had multi-goal games in that same period.
Junior midfielder Julie Winn, who scored a pair of goals in a shutout win against Marywood University on Sept. 7, said the team's defense gave the offense confidence to take more risks.
"I felt more comfortable taking chances on offense because I had faith that my defense would be there if necessary," she said. "Our offense starts from our defense, and they have been a very integral part of our success because it all begins with them."
But as the Blue and Gold faced tougher opponents, the tides began to shift. Over its next five games, the team went 2–2–1. Its first loss came Oct. 4 at home against
Misericordia University.
Sophomore forward Jackie Rodabaugh said the team displayed over-confidence after scoring the opening goal and were taken off guard by a resilient Misericordia University team.
"They had a lot more energy than we did," she said. "They came out with their first goal, and we put our heads down," she said.
The South Hill squad lit up the scoreboard in the next game Oct. 8, against Alfred University, but fell short against the eventual Empire 8 Champions, Stevens Institute of Technology, the following day. The Bombers outshot Stevens 28-18, but eventually lost 2-1 in overtime.
Stevens senior forward Kathleen Schuckers, who scored the game-winning goal in the 109th minute, said defense was the key to her team's win.
"I think our high pressure helped us a lot," she said. "Not breaking down defensively was a key to winning the game."
The Bombers will face Illinois-Wesleyan University on Saturday for the first time in team history. Junior forward Rachael Palladino said the team's losses do not discourage them, but motivate them to play better in the postseason.
"Sometimes the game just doesn't go your way when you leave it all out on the field," she said. "That just makes us work that much harder to defeat our next opponent."