For the football team's seniors, a win against Utica College on Saturday in their final home game meant more than finishing undefeated on their own field for the first time in their four years on South Hill.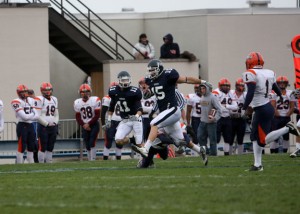 The victory clinched the program's 40th consecutive winning season. Only seven other schools in any division of NCAA football have had longer streaks, and only Linfield College of McMinnville, Ore., has a longer active streak in Division III at 55 consecutive winning seasons.
The only schools with longer streaks of consecutive winning seasons are Penn State University with 49, 1939-87, the universities of Nebraska and Notre Dame with 42, 1962-2003 and 1889-1932, respectively, and the universities of Michigan and Texas with 40 apiece, 1968-2007 and 1893-2007, respectively.
"That's pretty amazing," junior cornerback Mike Conti said. "I knew we had a pretty good streak, but for our program to be mentioned in the same breath as those schools is pretty remarkable."
The Bombers have won three Division III National Championships, a total eclipsed by only two schools. The squad has also made seven title game appearances — the most of all teams in Division III. The team has won eight Lambert/Meadowland Cups presented to the best small-college team in the East, while compiling a win percentage of almost .650, and have produced 123 All-Americans during the streak.
Utica Head Coach Blaise Faggiano, who was part of the Bombers last national championship team in 1991 and whose Pioneers fell to the Blue and Gold on Saturday, said being part of the Bomber tradition has stuck with him his entire life.
"Being part of a national championship team and the tradition here sticks with you," Faggiano said. "Those are memories that you carry with you for the rest of your life."
Senior defensive tackle Andrew Haim said he has the tradition in mind every time he puts on his Bombers' jersey.
"Knowing how successful the program has been, it makes you work harder to want to keep it going," Haim said. "You want to set the example for the younger players that the guys before you set."
Head Coach Mike Welch, who has been part of the staff at Ithaca since 1984, has posted a record of 208–58 (.781 win percentage) since coming back to coach at his alma mater.
"We've had so many winning seasons in a row now that it's become ingrained in us," Welch said. "Nothing less than winning is acceptable by our standards."
For the Bombers, just recording a winning record is not deemed a successful season; this is a squad with playoff aspirations every season.
"When you come here you know what's expected," Haim said. "You're playing not just for pride but to keep the success going."
A Bomber victory over conference rival Alfred University and a St. John Fisher College loss to Springfield College on Saturday would give the Bombers the Empire 8 conference championship and an automatic bid to the NCAA tournament.
"We know what's at stake," Welch said. "There will be no need to amp the players up for this one."