The upperclassmen on the women's basketball team have a chance to erase three years of frustration and season-ending disappointment when they step on the floor of the Ben Light Gymnasium for a playoff game this weekend.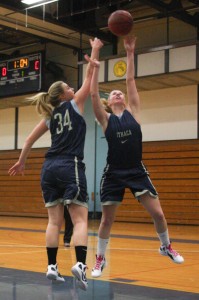 The Bombers will host the Empire 8 Conference as the top seed for the fourth consecutive season when they tip off against fourth-seeded St. John Fisher College at 6 p.m. Friday. Ithaca has won 57 of their past 62 games against conference opponents on their way to compiling four straight regular season titles. However, the Blue and Gold have yet to punctuate any of those seasons with a conference title.
Junior forward Devin Shea said the Bombers are ready to rid themselves of the bitter taste of disappointment from falling apart in the playoffs.
"There's big motivation for me and definitely for the seniors with this being their last Empire 8 tournament," Shea said. "It's hard to watch other teams celebrate on your home court, and I don't know if I would be able to watch that for a third time."
Senior guard Jessica Farley has seen three teams race through the regular season schedule, only to lose when it mattered most. She said this year's squad has all the pieces to earn an automatic bid to the NCAA playoffs by finishing as conference champions.
"We joke around and say we want that free Empire 8 T-shirt," Farley said. "But I think our motivation is to finish our season on a strong note knowing that we have a really good team, and we can win it."
The Blue and Gold defeated Fisher in both regular-season meetings, but the second game Feb. 4 in Rochester, N.Y., was a much closer affair than the 82-50 victory Jan. 6 in Ben Light Gymnasium. The Bombers needed a second-half run to earn a 75-66 victory the second time they faced the Cardinals to pick up their 18th win of the season.
The other semifinal game between Hartwick College and Stevens Institute of Technology proposes a potential revenge factor if the Blue and Gold are able to get past Fisher and play in Saturday's tournament final. Second-seeded Hartwick handed the South Hill squad its only conference loss of the season in a tight 56-53 contest Jan. 28, which ended the Blue and Gold's eight-game winning streak in conference games.
Sophomore guard Kathryn Campbell, who leads the Bombers in scoring along with sophomore forward Jenn Escobido, said the team's finish should be different this time around.
"We're definitely looking forward to getting them back because it was a tough loss, and it wasn't one of our better games shooting-wise," Campbell said. "If we just play our game, we should be able to come out and beat them."
Farley said this team has the talent to make a lot of noise on the national stage.
"I know this team has potential to make it all the way," she said. "We've even heard some of the parents and other people saying, 'Wow, this team is really special,' so everyone believes this team is the one that can make it really far."