The only woman on an all-male team is a story that's played out a handful of times in the past. It's the opposite scenario that doesn't often happen.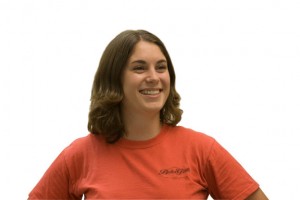 But for sophomore Jeremy Coman, the lone male on the Ithaca College cheerleading squad, it's not a big deal.
"I used to call them 'my girls,' because by the end I had a group, a family," he said. "I'm really glad to definitely be part of an environment that promotes team, group effort, that whole idea."
Cheerleading often gets a bad rap for being effeminate and not physically demanding. I'll be the first to admit that I used to think of cheerleaders as those girls on the sidelines of a high school football game yelling, "Ra ra sis boom ba!" And I had the same "that's not even a sport" attitude.
I hate to make the reference, but "Bring It On" played a major factor in changing my mind. Seeing the competitive drive and the intense stunts made me realize cheerleaders are capable of far more athletic moves than I am.
It's this competitive aspect of the sport that first interested Coman in cheering.
"Going into high school it never really concerned me," Coman said. "[Making] that leap into what people would think, like, 'Oh cheerleading, why would you do that?' It just made sense, so I figured why not give it a shot?"
Coman, who was the captain of his squad his senior year of high school at Holland Hall School in Tulsa, Okla., did more than just "give it a shot," as he led his team to an ASC National Championship in the High School Varsity Co-Ed division.
Coman said he never understood why it's against the norm to be a male cheerleader.
"There's nothing feminine about it," he said. "People give me a lot of stuff like, 'Oh, you get to touch girls' butts.' Admittedly, when I first signed on I didn't exactly know how stunting worked, and I would actually avoid trying to be inappropriate. It's like kissing in a movie — it's just part of the job."
Senior Ashley Pellegrino, the president of the cheerleading team, said the team won't necessarily have to compete in co-ed divisions at all competitions, but having a male on the team has helped add depth to the squad's sound.
"Having him on the team with such a deep baritone voice, it just brings everybody else's voice down," she said. "You can already hear the difference in the team when he cheers with us."
Pellegrino said the team is excited this year because of what Coman brings to the table.
"Jeremy is like the picture perfect cheerleader in a male form," she said. "He's energetic, he's outgoing, he's motivated. … He's our motivation to keep going."