From the time I've been at Ithaca, I've gazed into trophy cases hoping that as a Bomber fan I'd be here to witness a single national championship team, let alone back-to-back runs like the wrestling and women's soccer teams had in the early '90s.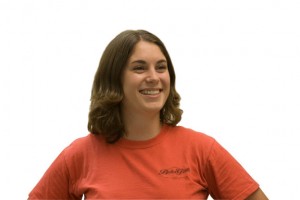 While the college hasn't seen a team claim a national title since the women's crew's consecutive titles in 2004 and 2005, three individual athletes made history all on their own over the past few weeks.
Juniors Seth Ecker, Jessica Bolduc and Emma Dewart of the wrestling, gymnastics and women's indoor track teams, respectively, became the first trio in Bomber history to win national titles in the same year.
"It's definitely a great sensation to know that all of your hard work has paid off, and you're able to just have that recognition and end that year that you've worked so hard through with a bang," Bolduc said.
The three star athletes said the titles didn't come easily; each of them had battles to overcome.
Ecker, who was ranked No. 3 in the NCAA Championships, went up against No. 4 Mike McInally of Rochester Institute of Technology. The two have developed a bit of a rivalry during their careers as they faced off four times this season, including during the Empire Collegiate Wrestling Conference Championships where Ecker upset McInally to take the title at the 133-pound weight class.
Bolduc, who won the national title in the floor exercise, said she was surprised to win the event considering bars is her specialty.
"I was really shooting to win bars, so it kind of was a shocker when I won floor, but I'm happy I won something," Bolduc said.
Dewart's title run came down to the wire. The pentathlon national champion was rolling smoothly through events until the shot put, where she said she was disappointed with her 8.06-meter throw. But she managed to bounce back with a season-best 2:24.60 time in the 800-meter run to slide past Gustavus Adolphus College's Janey Helland.
Because each athlete still has a year left to compete, they're all aspiring to get back in title contention, or go beyond. And Dewart could have another chance this year during the outdoor track season.
Ecker said more importantly than repeating individually, he'd like to see his team go all the way.
"The dedication of a group would mean more than the dedication of an individual because you see individuals all the time," he said. "There's only one team champion in a sport. There's 10 individual champions in wrestling."
If there's ever an appropriate time to say it: "It's a great day to be a Bomber."
Casey Musarra  is a senior televison-radio major. Contact her at cmusarr1@ithaca.edu.