When an opposing quarterback drops back to pass against the football team's secondary this season, he will be doing so against a unit of seasoned veterans.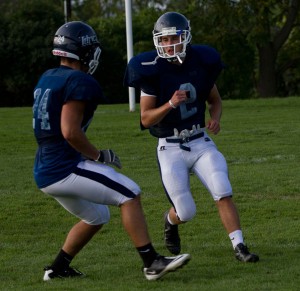 Starting three seniors and one junior, the South Hill squad's defensive experience is loaded with proven talent in the secondary. The Bombers have two seniors at cornerback who have been standout players for three seasons in Mike Conti and Spence White. Both were named First Team Empire 8 conference members in 2010, and each has been starting for most of their four-year Bomber careers.
Conti said the experience of having played in the defensive backfield helped him, White and the entire secondary.
"It's one thing in practice, but when the lights are on and it's go time — when that first whistle blows, sometimes you have to learn the hard way," Conti said.
Senior strong safety Kevin Cline and returning  junior  starter Josh Liemer lead the Bombers at the safety position. Cline, who has been a standout on special teams, had a career high nine tackles in Saturday's 21-7 loss to Salisbury University. Liemer also tied another career high with 10 tackles in the disappointing loss.
White said though their main job on the field is pass coverage, the secondary still has a heated desire to be able to make key stops when it needs to.
"When it comes to the tackling phase, we take pride in being the smallest guys on defense," he said. "We walk around with a chip on our shoulder trying to be big dogs back there —  just trying to make as many tackles as possible."
Though Salisbury is predominantly a rushing team and runs a flexbone option offense, it elected to throw the ball seven times for 82 yards in Saturday's contest. With Bomber veterans in the secondary, it's possible other teams will avoid throwing  passes down the field.
Cline said the secondary's familiarity with each other helps them adjust well to situations over the course of the game.
"We know the material, we know what the calls are, and we communicate real well," Cline said.
Conti said their communication could help not only to prevent miscues, but also bolster the entire defense.
"Josh [Liemer] will see what I'm doing and he'll be like, 'alright I know what Mike's about to do,' and he can kind of make me correct if I am about to mess up," Conti said. "It's the right chemistry, especially coming from the back — we can see everything pre-snaps."
The veteran secondary will be vital to the team's success in bouncing back from the loss, but Liemer said the group of four is ready for the challenge of the following game against Union College on Saturday.
"We've all played in a lot of games so we're used to seeing a lot of different looks," he said. "If something goes wrong or gets you down, just move on to the next play. We all have faith in each other."