Head Coach Mike Welch | Football
Though I applaud the efforts of the committee, which was given a very difficult task, I would not be happy with any of the three finalists.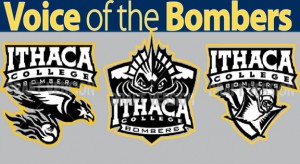 I am a 1973 graduate and have been a coach at Ithaca College for 27 years. Over these many years, I have seen the efforts to change the name or develop a mascot for our school. This new attempt has brought similar results.
I feel the name is the symbol. The word Bomber is a symbol for our commitment to excellence in everything we do. The word Bomber is a winner. The more I look at other colleges and universities and what we have at Ithaca College, this spirit is rare. It is a spirit of family, hard work and commitment to not only win in life, but to do it the right way, to do it with class. Though the efforts are noble, I do not know how you can improve on that.
Lindsey Naldolski '09 | Women's cross country
Quite honestly, I never felt a need for a new mascot in the first place. As an athlete, I didn't think our school, and more specifically our team, lacked an identity to rely on. The cross country team always used a bomb/bomber as an image, and it became something we were proud of. I never felt deprived.
Would I feel differently if I had a flying squirrel or lake beast as a mascot? I might feel a little deprived.
If I had to pick it would be to forgo the entire process of picking a new mascot just because people think it will give Ithaca College coaches and athletes a stronger sense of identity.
I hope that school spirit does not rely on what animal or mythological creature we happen to choose as the mascot for alumni and students alike.
Taylor Borda '10 | Men's tennis
I would undoubtedly select the phoenix to be Ithaca College's mascot. Throughout history, the phoenix has been characterized as a very powerful and mythological creature.
Because the phoenix strikes me as such a powerful and sought-after creature historically, it embodies characteristics such as hard work, perseverance, and realizing one's full potential, which are all qualities that can be found within the Ithaca College community.
The mascot will strengthen school spirit in the sense that the student body will have something to connect to and resonate with. There is such a strong sentiment regarding athletics at Ithaca College whether you are a coach, player or fan and with a new mascot, camaraderie and school spirit can only continue to grow.
Senior Chris Cruz | Men's basketball
If I had to choose one of the mascot finalists, it would be the mythical phoenix because the logo was the coolest. But I don't think any finalist fits our tradition or properly represents the school.
The mascot should represent our history and properly present the idea of a Bomber.
I think a mascot will strengthen school spirit, but I personally don't think these finalists will because they don't really relate to anything that we've accomplished. I've never even heard of these mythical stories.
I think further research and thought should go into finding a mascot and something that will make current students and alumni proud to be a Bomber.
Graduate Student Dave Ahonen | Football and Baseball
I feel that a mascot, whether that be any of the three, would bring that excitement to the campus because we haven't had a mascot over the years.
In my case, football and baseball teams have won national championships in the past, and I've heard several alumni who have come in and talked to members of the task force. You can just sense that these were the best years of their life, and sports was a huge part of it.
I understand that excellence, pride and tradition are all that is representative of Ithaca College and the Bomber name — that's why we want to get the mascot search right. You can't please everyone, but at the same time you want to have something you're proud of and people will respect.
Head Coach Becky Robinson | Women's crew
Honestly, none of them jump out and grab me. I can see pros and cons to each. I don't hate any, but I am disappointed that none of them truly embody my vision of what it means to be a Bomber.
Since we are choosing the mascot, I believe it should represent what and how we think about ourselves as an academic institution and also as an athletic power: Excellence.
We have had mascots — even if they were deemed unofficial. It is all about marketing the mascot and also the events that the mascot would be present at.
Whether we select a new mascot or just revitalized one of the unofficial mascots, strengthening school spirit will depend on promotion.
Sophomore Rachael Palladino | Women's soccer
Out of those three I would pick the phoenix only because I would never ever want to be on a team represented by a flying squirrel. It would be completely embarrassing, and no one would take us seriously. The lake beast, I just cannot see the connection between the Bombers and the lake beast.
If I had a choice I would not have picked any of them.
I do not believe that we need a mascot for the college. We have never needed a mascot before, therefore I do not understand what our sudden need is to have one. All athletes take pride in being a Bomber, so why should we change that?
I have talked to many athletes, and a lot of us are disappointed that with more than 200 suggestions of mascots, these three were the finalists.
Junior Jessica Bolduc | Gymnastics
To be completely honest, I wouldn't select any of the three. But if I had to choose one, it'd be the phoenix because of its unique symbolism.
I believe the mascot should be able to represent what it is to be a Bomber, our location and our student body. It definitely should not represent mythical creatures or flying squirrels.
I do not think the finalists represent my athletic career or accomplishments in any way at Ithaca College. I think the finalists are horrible options.
How about something similar to the New York Jets. We could be the Jets, but with blue and gold colors, instead of green. And the lake beast? Cortland is our rival. How can we be rivals with them and tell them dragons aren't real, and then adapt something that is worse than a dragon?