One light bulb serves as the illumination for this display of athleticism. A homemade poster with quotes, "Suck it up" and "Squat till you puke," provide the only inspiration. Pictures of Andrew Hollenbeck's idols, Wade Hooper and Ed Coon, add reminders of what the future may bring.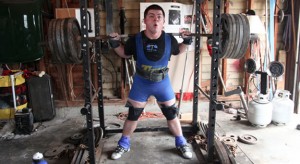 In this garage, the senior pushes himself, cheeks stretched and eyes bulged, to raise the 705 pounds that rest on his broad shoulders.
This is home for Hollenbeck, a physical therapy major, who finished first at 181 pounds April 3 in the 2011 United States of America Powerlifting Collegiate Nationals. He won the title after squatting 672 pounds, benching 429 pounds and deadlifting 672 pounds. He has trained for lifting this colossal weight in a special type of gym — his garage.
Hollenbeck said he began lifting at home when he was 16 years old, but it wasn't something he had planned on getting involved in.
"My friends in high school went to some local meet, and I just kind of got into it," he said. "I bought some stuff, put it in the garage and that was the start of it all."
From that point on, Hollenbeck said, the weights and reps kept increasing.
But Hollenbeck isn't your stereotypical powerlifter. When Hollenbeck was 5 years old, he was more interested in go-cart racing, even once racing in Daytona, Fla., and bowling, averaging about 205 per game. He doesn't have the muscular appearance of Arnold Schwarzenegger either.
Standing at 5 feet 3 inches, Hollenbeck said his size was a motivating factor for him to start powerlifting.
"All the top guys in the lightweight classes are around my height," Hollenbeck said. "It was actually one of the reasons I got into lifting. I might as well take advantage of my height and my leverages."
When lifting, Hollenbeck wears supportive gear designed to stabilize his knees and hips, which makes him look like a combatant of sorts. He casually struts up to the bar that's fully doused in 45-pound weights and stares at it, his eyes scanning from one end of the bar to the other. A quick breath, a flash of highly tuned muscle — the veins in his neck popping out under the pressure — and Hollenbeck has just moved hundreds of pounds in a calculated, mechanical movement.
Hollenbeck has gained his strength without a typical coach and his determination has fueled his success in powerlifting.
Hollenbeck said one moment that has stuck with him is the 2007 Junior World Championships in La Garde, France.
"My heart was set on winning for two years," he said. "I just wasn't having a good day. It came down to dead lift, which is my lift, and I had 645 pounds loaded on the bar to go for the win and break the world record, but I missed it. I was in tears for a while after that one."
Hollenbeck went on to be declared winner after the first place winner was deemed ineligible after failing a drug test. But he said the instance still motivates him today.
"Even though technically I won, it doesn't feel like that," Hollenbeck said. "I didn't get to stand on the podium and hear my national anthem get played."
His current lifting partner, senior Alex Alexander, who recently won his first powerlifting competition at 275 pounds in January, said he sometimes tells Hollenbeck to ease up on lifting and tries to restrain Hollenbeck's hunger for success.
"I spend more [time] telling him not to do stuff," Alexander said. "Sometimes he gets really in to it, and it's like, 'No dude, not today. Tomorrow, yeah. But, don't do that.'"
During freshman year, Hollenbeck made the 20-minute commute home to Candor, N.Y. almost every weekend to lift and avoid the possible catastrophe of a normal bar at the Fitness Center collapsing under the gargantuan weight.
Since Hollenbeck got permission to bring his competition bar to campus his sophomore year, he has been using the college's facilities to train.
His workouts consist of variations of the bench, squat and dead lift, and the amount of sets and reps changes everyday.
In addition to his rigorous workouts, Hollenbeck has achieved his success on an unconventional diet of a college student.
"I eat a lot of chicken — George Foreman is my best friend," Hollenbeck said. "I have just been eating whatever I feel like just trying to keep my weight up — just Bombers from Rogan's; I get my hands on subs from Wegmans all the time."
Hollenbeck said the mentality of having a life away from powerlifting has helped him maintain perspective.
"It's kind of awesome that I live a more normal life, and I'm not crazy about lifting all the time," Hollenbeck said. "It helps my lifting that I'm not completely focused on it 100 percent of the time."
Outside of powerlifting, Hollenbeck said he finds time to go kayaking and hiking, as well as trying to catch New York Yankees and New York Giants — his two favorite teams — games when he can.
Hollenbeck said he listens to snippets of Muhammad Ali speeches and "Rocky" and "Coach Carter" quotes before he lifts to get into his desired mental state. He said he visualizes the weight being moved before a lift, and it isn't just a pure brute strength — it's also an intense mental challenge.
"It's all about visualization," Hollenbeck said. "You've got to do the lift 100 times in your head before you go and do it once in real life."
Alexander said if the mental aspect isn't together, failure is inevitable.
"If you are not prepared, you can be strong enough to hit a weight, and it just won't move," he said. "It's a phenomenal tool for building mental toughness."
This past August, Hollenbeck was  privileged to be critiqued by Mike Tuchscherer, a four time USAPL national champion.
Hollenbeck posts workouts online and Tuchscherer, who lives in North Dakota, evaluates Hollenbeck's regimen.
"There are actually a lot of powerlifters kind of in the same boat but live in a place where they may not be around other powerlifters, so they don't really have an opportunity for a team setting," Tuchscherer said.
Though Hollenbeck is a physical therapy major, he said he'd like lifting to translate into his future career.
"Probably the biggest regret of my life right now is not doing the [athletic training/physical therapy] double major," he said. "I would have done Exercise Science and just been a strength coach."
Hollenbeck said his improvement and future in powerlifting continues to inspire him every day.
"Once you hit one goal, you just move your goal up," he said. "Eventually you're doing some pretty crazy stuff. I want to really win the World Championships and stand up on top of the podium and have that national anthem play."