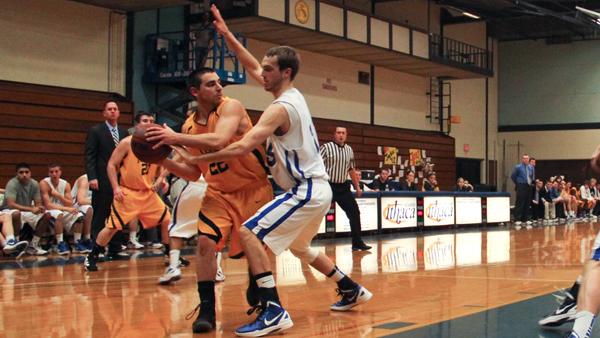 "Champagne" is the word going around the basketball team this winter. It is not a funny motto. It is a mission statement.
The Bombers say "champagne" after a clutch shot, but the word also states their goal: celebrate an Empire 8 Conference championship for the second straight season.
The Blue and Gold surprised the conference last season by winning the Empire 8 tournament as a four seed and defeating Hartwick College and Nazareth College before losing in the first round of the NCAA Tournament to the College of Staten Island. The team returns four starters and are led by senior point guard Sean Rossi.
Rossi has led Division III in assists in each of the past three seasons, averaging just fewer than nine assists a game. He stands 174 assists behind the all-time Division III record of 917, set by Ramapo College's Tennyson Whitted in 2003. With Rossi recording well over 200 assists in each of the past three seasons, the record is definitely in danger. Head Coach Jim Mullins said Rossi is the only player he can guarantee will start in the Bombers' first game against SUNY-Potsdam on Nov. 16. Mullins said Rossi's assist totals make him one of the greatest basketball players in Ithaca history.
"He's on track to be a 1,000-assist kid, and if that happens, that's just unheard of," Mullins said. "Whether he does that or not is irrelevant, but most certainly he's going to set the all-time record for assists at the Division III level."
While Mullins relies on Rossi's passing ability, the rebounding of his frontcourt is something of great concern to the Bombers' head coach. Opponents outrebounded the South Hill squad by an average of five boards a game last season. Rossi said the teams' poor rebounding was a major factor in the Bombers losing nine games by five points or less.
Senior forward Andrei Oztemel said the Bombers are making a concerted effort to improve their performance on the boards.
"It's one of those effort things in basketball," Oztemel said. "We have to work hard, and we have to be in the best conditioning we've been in. We got some big bodies coming in this year, and we just have to be aggressive and get after it."
Junior center Tom Sweeney and junior forward Frank Mitchell will man the frontcourt with the expectation that they will improve on their rebounding. Mullins said he expects Sweeney to drastically improve on his two-rebound-per-game average from last year.
The arrival of senior forward Travis Warech, who transferred from Division II St. Michael's College, will help out Oztemel. Mullins said he believes Oztemel and Warech can be on the wings regardless of if the Bombers use a big or small lineup. Oztemel said Warech contrasts his style of outside shooting perfectly.
"I've never played with a guy who has a higher basketball IQ in terms of moving without the ball and coming off of screens, and he's going to help us out with his ability to slash and finish at the rim," Oztemel said.
The Bombers will also see senior guard Eli Maravich return to the team after a two-year absence for personal reasons. Mullins said Maravich had been the best player on the team in the early part of the season. Rossi said Maravich is going to surprise many with his performance.
"They haven't seen him in two years, they don't know how he's improved," Rossi said. "People assumed that he sat two years and lost some of his ability to play basketball, but his ability has improved way more than I expected."
While the "champagne" celebration is the grand goal for the Bombers, Rossi, Oztemel and the other veterans are keeping things in perspective. Rossi said he wants the team to take things day by day.
"A lot of people I talk to are concerned about the NCAA Tournament, and we haven't even played a game," Rossi said. "Andrei, [junior center Tom Sweeney] and me are going to keep stressing that we have to take it one game at a time. If we have that mentality, then I think we're going to be fine."