In a game that was much closer than the final score indicated, the women's basketball team (13–3 overall, 5–0 Empire 8) was finally challenged in conference play. The Bombers were able to control the boards down the stretch and extend their perfect start to their Empire 8 Conference slate with a 59-45 victory against visiting Elmira College (5–10 overall, 2–3 Empire 8) tonight.
Rebounds proved to be the difference in this contest, as the Blue and Gold had 46 to the Soaring Eagles' 22. The most striking example of the Bombers' dominance on the glass was a series of offensive rebounds that gave them more than two straight minutes of possession toward the end of the game. That possession eventually ended with a layup by junior forward Devin Shea that proved to be the final blow to Elmira's chances.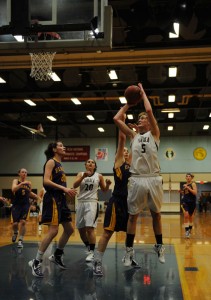 Shea said the long possession took the air out of a rising rally by the Soaring Eagles.
"Our rebounding really wore them down," Shea said. "I believe [sophomore forward] Jenn Escobido pulled down four offensive rebounds in the last three minutes and we made them play about two minutes straight of defense. We were able to set the tone that they weren't going to win any rebounds."
The Blue and Gold had four players reach double-digit point totals in tonight's matchup. Shea was the team's go-to option on offense throughout the night, leading all scorers with 20 points on 9 of 15 shooting.
Escobido, the other half of the Bombers' low-post tandem, tallied a double-double with 10 points and a game-high 11 rebounds.
Senior guard Jessica Farley scored 10 points with a game-high six assists and sophomore guard Kathryn Campbell also chipped in 10 points for the South Hill squad.
Sophomore guard Elisabeth Wentlent, who made her first start of the season for the Blue and Gold, said a close game was beneficial for the Bombers because it helped the team improve on its late-game strategies.
"I don't think we necessarily expected it to be as close as it was," Wentlent said. "We've been working a lot lately on communication, and so a close game like this really helped us work on that."
With this victory, the South Hill squad currently sits alone atop the Empire 8 standings with a 5–0 record. While the team has already beaten each of the top five teams in the conference, Farley said the Bombers are remaining careful in not looking too far down the road.
"Our coaches really help us with that, we never look ahead," Farley said. "We won't even look at Alfred until tomorrow. They always preach one game at a time."
Next up for the Bombers is a home date against Alfred University in the second game of a five-game homestand. Tipoff is at 2 p.m. tomorrow at Ben Light Gymnasium.