Junior forward Devin Shea hit the game-winning layup on a winding drive from the top of the key to the rim to help the women's basketball team to its first Empire 8 Conference Championship since 2007.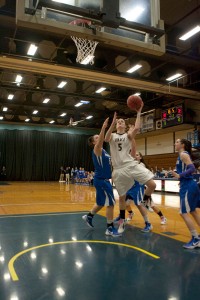 Shea said she felt comfortable out at the three-point line before scoring the game-winning basket.
"I knew I was quicker than my defender, and having the ball out on the perimeter I knew I could beat her off the dribble," Shea said.
Shea's field goal was the highlight of a 12-2 Ithaca run that punctuated the game and sealed the 43-38 win against Hartwick College yesterday in Ben Light Gymnasium. The Bombers' win earned them a spot in the NCAA Tournament for the second time in three years.
The final contest was a tightly fought defensive battle in which neither team led by more than six points at any moment during the game. With three minutes remaining, Hartwick gained a five-point edge that would be its largest lead of the game.
With the game slipping away, the Bombers turned to their senior guard and captain Jessica Farley, for some timely outside shooting. Farley hit two clutch three point shots in the closing moments of the game, one of which tied the contest at 38 with less than a minute remaining.
"It felt right," Farley said of her game-tying shot. "As a shooter you have to believe in yourself and believe that it's going in."
Farley's confidence turned the tide in Ithaca's favor, as the Blue and Gold stopped Hartwick's offense on the subsequent possession and found itself with an opportunity to win the game prior to Shea's layup.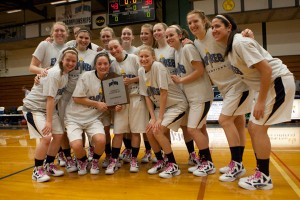 After enduring heart-breaking defeats to end each of the last three seasons, Head Coach Dan Raymond said he was happy for the seniors on the team.
"I'm most excited for all the kids," Raymond said. "Our upperclassmen have had to watch somebody else carry our trophy off of our own court before, so it's most exciting for them."
The matchups for the 64-team NCAA Tournament will be announced at 2:30 p.m. tomorrow.