The women's basketball team (24—4) opened up NCAA Championship Tournament play in dominant fashion, as they defeated the Elms College Blazers (20—9) by a score of 84-37. The 47-point margin of victory was the largest in an NCAA playoff game in Ithaca history.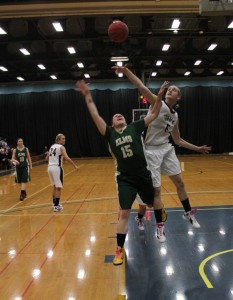 The Blue and Gold's defense put the clamps down on their opponent, forcing 22 turnovers and holding the Blazers to only 37 points, well below their regular season scoring average of 63.1 points per game.
Elms College Head Coach Laura Habacker said a lot of the Bombers' defensive success came from their physical advantages.
"They were a little bigger, a little bit faster, a little bit stronger," Habacker said. "We try to simulate that in practice, but it's a bit of a challenge when we don't have the size and strength that they have."
While the Bombers' defense has been stifling throughout the postseason, they have endured offensive stretches where they struggled to score. Last night, however, sophomore guard Kathryn Campbell spearheaded the South Hill squad's scoring by sinking 19 points.
Head Coach Dan Raymond said the Bombers' accurate shooting stems from always being prepared.
"We talk about rhythm all the time with shooting," Raymond said. "It's about getting the footwork down so when you do catch the ball, you're in position to shoot it. It's not a second thought, it's the first thought."
To complement its outside shooting, the South Hill Squad took advantage of its interior play on both sides of the court. The Bombers outscored the Blazers 38-12 in the paint, and junior center Devin Shea's stalwart defensive presence led to her recording a career-high five blocks, all of which came in the first half.
With their win tonight, the Bombers captured their school-record 24th win of the 2011-12 season. Senior guard Jessica Farley said she did not dedicate much time to celebrating this accomplishment.
"You kind of soak it all in," Farley said. "But then you just know that this isn't the end, and our ultimate goal is to win tomorrow."
The Bombers will host Bowdoin College at 7 p.m. tonight in Ben Light Gymnasium in the second round of the NCAA Tournament. The Polar Bears defeated the University of Southern Maine Huskies 75-68 in yesterday's other first round regional semifinal in Ben Light Gymnasium.