It wasn't always pretty to watch, but the women's basketball team (16–3 overall, 8–0 Empire 8) picked up a gritty 54-38 win against Stevens Institute of Technology (7–11 overall, 4–4 Empire 8) last night in Ben Light Gymnasium.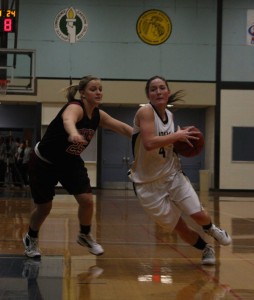 The Bombers closed the first half on a 6-1 scoring run to take a slim 22-18 lead into the halftime break. The Blue and Gold held the Ducks to just 6 of 24 shooting in the opening frame and forced Stevens to commit seven first half turnovers.
The South Hill squad was finally able to turn its shutdown defensive effort into points on the offensive end in the second half. Stevens kept it close and trailed by just four points with 10 minutes to play in the game, but the Bombers proceeded to outscore the Ducks 23-11 the rest of the way.
Freshman forward Francesca Cotrupe said the Blue and Gold were able to pull away once they used steals to get out in the open floor.
"In the first half we didn't really run as much and get in transition like we usually do," Cotrupe said. "In the second half we started to push the ball down the floor and we were actually able to set up plays."
Sophomore guard Kathryn Campbell said the team's biggest adjustment during halftime was to attack the paint area more and to try to put Stevens on its heels.
"We just talked about being more aggressive and taking it to them," Campbell said. "We got the shots we wanted in the first half they just weren't falling."
Senior guard Jessica Farley led the way scoring-wise for the South Hill squad with 18 points, three rebounds, two assists and two steals. Sophomore forward Jennifer Escobido chipped in eight points and nine rebounds, while junior forward Devin Shea recorded a game-high nine rebounds and four blocks.
Unlike some of the Bombers' previous conference opponents, the Ducks were not hesitant to go after the home team on the Ben Light Gymnasium court. Stevens played with a chippy style, but freshman forward Geena Brady said the South Hill squad was prepared for a rough and tumble fight.
"Stevens is always physical every time we play them," Brady said. "We didn't get the calls we wanted, but we played as hard as we could and got the win."
The Bombers have a quick turnaround, as they will play the final tilt of their five-game home stand against second-place Hartwick College. Tipoff is scheduled for 2 p.m. in Ben Light Gymnasium.