The women's crew opened their spring regatta season Saturday at the Cayuga Inlet, hosting no. 3 William Smith College and no. 9 Marietta College.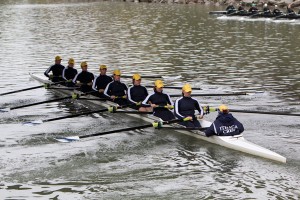 The Bombers were looking to get off to a strong start following their annual spring training trip to Georgia and gain ground in the NCAA Division III standings, where they are currently ranked sixth.
The Blue and Gold's strongest showing came from the varsity 4 boat. The varsity 4 finished with a time of 8:37.91, cruising to a twelve second victory over William Smith's finish of 8:50.65 and contributing to the crew's high hopes for this season.
The first varsity 8 boat finished third in its race, with a time of 7:23:56 to first-place William Smith's 6:52:58. There was a very close field in the second varsity 8 race, as all three boats finished within 12 seconds of each other. Marietta took the victory with a time of 7:21.4 to the South Hill squad's third-place finish of 7:33.5.
Senior captain Elisabeth Hurley, who rows in the second varsity 8, said the Bombers are already hitting their stride.
"I think we had a really solid race, and I think that really sets a good standard for us starting the season," she said. "We have a lot to look forward to, and I think we're really starting to lock into a nice rhythm working together."
The novice 8 and third varsity 8 boats were beat out by William Smith's boats, as the novice 8 lost by the slimmest of margins, 7:39.63 to 7:33.61. Ithaca's third varsity 8 posted a time of 7:55.70.
Sophomore Barbara Mitchell, who rows in the novice 8, credited her boat's performance to teamwork and dedication.
"We really had a lot of power behind our race today and I know we all had a lot of heart in it, and that's what made it go so well," she said. "This sport sometimes gets a little grueling, but if it weren't for all of our teammates I know none of us would be here right now."
As the team begins to focus on next week's regatta, Hurley believes they'll keep the positives from this week's races in mind.
"Regardless of how people did, I think there was a lot of good contact today between boats." Hurley said. "In the future I think other teams might get faster, but we certainly will. Today was a really good place to start from, and I think we can only get better."
Women's crew returns to competition against the University of Rochester at 11 a.m. Saturday at the Cayuga Inlet.