The women's indoor track team hosted the Bomber Invitational at Glazer Arena today, as the Bombers broke one school record, hit five Eastern College Athletic Conference marks and recorded 15 top-five finishes.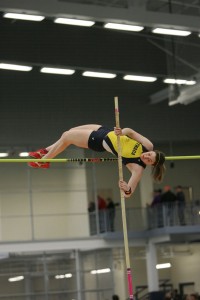 The Blue and Gold took three of the top five spots in the weight throw, as senior Jessica Hoeffner again rewrote her school record. She won the event with a throw of 15.95 meters, bettering her previous record by 40 centimeters. Senior Anna Lawrence placed fourth with a 14.25-meter toss and classmate Katie Middelton followed in fifth with a mark of 13.66 meters. All three bettered their career-best throws, with Hoeffner and Lawrence hitting the ECAC-qualifying mark.
The distance medley relay team of junior Jenn Randall, freshman Harmony Graves, junior Ebonie Howard and freshman Alexa Rick ran an ECAC-qualifying time of 12.36.98 to place second in the event.
Senior Julie Orlando placed third to hit the ECAC qualifier in the pole vault and sophomore Shannon Meehan ended up in fifth place with clears of 3.20 meters and 2.90 meters respectively.
The South Hill squad will compete at the Bomber Heptathlon and Pentathlon tomorrow.