The women's indoor track team competed at Cornell University's Robert J. Kane Invitational yesterday and had an additional two ECAC-qualifying athletes as well as 13 top-15 finishes.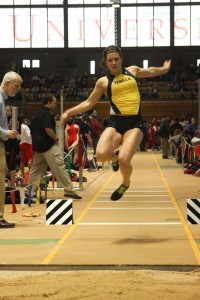 Senior Jessica Hoeffner placed second in the weight throw with an ECAC-qualifying heave of 15.74 meters, while classmate Kate Middleton hit the ECAC standard in the shot put with a fourth-place distance of 11.99 meters. Middleton also placed sixth in the weight throw with a distance of 13.71 meters.
Junior Colleen Garman followed in seventh place in the weight throw and senior Anna Lawrence finished in 11th place with throws of 13.45 and 12.96 meters, respectively. Garman placed eighth in the shot put with an 11.31-meter toss and freshman Corrine Taylor placed ninth with a 11.10 meter throw.
Senior Julie Orlando placed ninth in the pole vault with a 3.15 meter clear and sophomore Shannon Meehan cleared 3.00 meters to finish 11th.
Freshman Hannah Evans placed 13thin the long jump with a mark of 4.97 meters.