Equipped with a first-year coach instilling a new offensive mindset, the women's lacrosse team is determined to take the Empire 8 Conference crown they have fallen one victory short of for the past two seasons.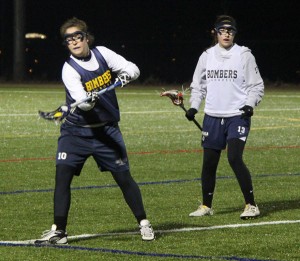 The Bombers' 2010 and 2011 seasons ended with losses to conference foe Stevens Institute of Technology, including a 10-9 defeat last year.
Junior goalie Jessica Worthman, who started all 18 games and made 142 saves last season, said the two close losses to Stevens have motivated this year's squad to work hard in the preseason.
"The games are pretty intense," she said. "We had to go there twice last year. It sucks to lose by one twice."
The Bombers' 11—7 overall record last season was good enough for an at-large bid to the NCAA Tournament, but they fell to Middlebury College in the first round by a score of 14-7 on May 11.
Shannon McHale will take over as head coach this season after 10 seasons as head coach of Empire 8 Conference rival, the St. John Fisher College Cardinals. McHale replaces Karen Hollands, who has remained a defensive assistant coach for the Blue and Gold.
McHale, who attended graduate school at Ithaca College, said the team has impressed her with its work ethic.
"The one thing I like about this team is these guys come to play every day," she said. "They are ready to go and are pretty motivated about where they want to be this year."
The Bombers return their top two scorers from last year's NCAA Tournament squad in senior attack Nicole Borisenok, who led the team with 53 goals and added 13 assists, and junior attack Tracy Rivas, who scored 44 goals and registered a team high of 14 assists.
With the return of Borisenok and Rivas, McHale has implemented a new offense this year that is focused on improvisation and creativity rather than set plays. Borisenok said the offense will require the attackers to stay in the play after they shoot.
"After we shoot we have to be ready to mark up and play defense, and that's something that Coach McHale this year really emphasizes," Borisenok said. "Now, in order to lay attack you really need to know how to play defense."
McHale said the Bombers' new offense should be harder for opponents to prepare for because it is less predictable.
"It's a motion offense, so players aren't put in certain spots," she said. "I don't want people behind the crease the whole time or just driving from the top the whole time because that's easy to scout."
The Bombers are less experienced defensively than last season, graduating their three defensive starters: Melanie Braun '11, Elizabeth Marino '11 and Abby Peterson '11. Worthman will anchor a back line in goal consisting entirely of underclassmen. Sophomore defenders Katie Long and Jenna Marchinetti played in 18 and 10 games
respectively last season and will step into starting roles this season.
Worthman said a lack of game experience has not affected the new defensive unit.
"With an inexperienced defense it takes longer to get into the swing of things," she said. "But they're right where they need to be at this point of preseason."
The Bombers are ranked 21st out of 40 teams in the Intercollegiate Women's Lacrosse Coaches Association Preseason Poll and will face a tough schedule right out of the gate. The Bombers will face the Franklin and Marshall College Diplomats and the third-ranked SUNY-Cortland Red Dragons before opening Empire 8 play against the Stevens Ducks on March 31.
Worthman said this year's seniors have made it clear that each player has a voice on the team regardless of seniority.
"The seniors we have this year let every other class speak, and everyone has an equal say and feels comfortable with one another," she said. "We're like a family on the field."
The Bombers will open their season against the University of Rochester on March 7 before traveling to Clermont, Fla., for spring break, where they will take on SUNY-Geneseo and Franklin and Marshall College. Borisenok said the team's dedication has kept her motivated during preseason training.
"There are some days that I'm looking outside and the weather is terrible, and it's freezing," she said. "But I see 23 of my other teammates out there working hard and really pushing themselves, so I know that it's my responsibility to carry my slack and not let them down."