The 21st ranked women's lacrosse team defeated the Nazareth Golden Flyers 19-3 this afternoon at Higgins Stadium. Junior attack Tracy Rivas scored three goals in the win and became the 18th player in the program to reach the 100-goal mark in her career.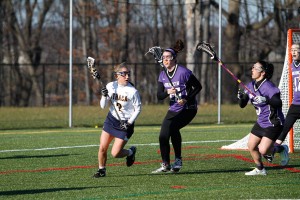 The Bombers went on a 5-0 run and had a 14-1 advantage one minute into the second period. The Golden Flyers had a pair of scores in the second frame, but the Blue and Gold went on to have its largest margin of victory since a 22-3 victory against Hartwick College in 2010.
Senior attack Nicole Borisenok had a hat trick along with Rivas, while freshman midfielder Molly Fischer had a career-high four goals.
Senior attack Racquel Lividini said she was very pleased with the team's performance today.
"We executed our game plan perfectly, built a lead from the beginning and just stuck with it," she said. "It was a full team effort from our goalies to our defense to the middies and our attack."
Senior midfielder Siobhan Sullivan said the team knew today's game was significant because it was going up against a conference foe.
"Nazareth always gives us a run for our money, so we knew that going into the game we had to raise our level and we did," she said.
Lividini said she was happy Rivas scored her 100th goal because she is a hard worker on and off the field.
"It's so exciting and each and every one of us on our team is so happy for her," Lividini said. "She is an incredibly hard worker and gives it her all at every game and practice. I know she will have more accolades to come in her future career."
Sullivan said despite the South Hill squad's blowout victory, it still has room to improve.
"As a team we just need to keep tweaking stuff here and there," she said. "Making smart decisions and controlling the tempo of the game is going to be key the rest of our season."
The Bombers will take on St. John Fisher College at 3 p.m. today at Higgins Stadium.