The women's tennis team etched out a 4-3 victory yesterday against visiting New York University in the Reis Tennis Center. The Violets only had three players available, so each one played singles twice against different Bombers, and one doubles match.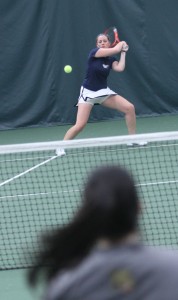 The Bombers celebrated seniors Becky Campbell and Kelsey Harness playing in their final home match. The win stopped a three match losing streak for the Blue and Gold, bringing their overall record up to 11-6.
Junior Allison Young, junior Laurel Salladay and freshman Carly Siegel gave the South Hill squad an early lead, defeating their opponents 8-5, 8-6, and 8-3, respectively. Campbell clinched the match for the Bombers, prevailing over NYU freshman Haley Mears 8-5.
The Bombers will travel to William Smith College on Thursday to face the Herons in their final match of the season. The Herons have a winning streak of eight matches that began with a 9-0 victory against NYU on April 1. The Bombers are 3—10 in 13 contests against the Herons since 2002.