The women's track and field team had a record-setting day at the Ithaca Invitational on Saturday. The Bombers broke one school record, hit 10 Eastern College Athletic Conference Championship qualifying times and posted 21 scores among the top three in their events.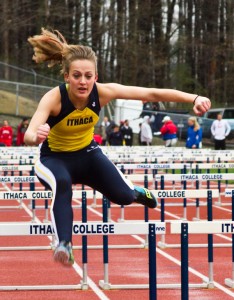 Senior Jessica Hoeffner set a new school record in the hammer throw, shattering the old record by over two meters. She threw for 50.13 meters, allowing her to qualify for the ECAC meet and place second overall. This record topped Hoeffner's previous record of 47.54 meters, which she set in the team's first outdoor meet on March 16.
Hoeffner said she was extremely happy with the outcome of her hammer throw on Saturday because it was an obstacle that she had been struggling with.
"I'm really happy with my performance," she said. "It was a personal record for me — and it was something that I had not been able to do — but I finally pulled everything together."
Senior Kate Middleton produced another strong performance, finishing third in the hammer throw (41.57 meters) and second in shot put (12.00 meters), qualifying her for the ECAC event. Senior Ashley Dlubac won the javelin by taking the three longest throws in the event and qualifying for ECACs with her winning throw of 37.82 meters. Senior Julie Orlando also met the ECAC-qualifying standard with a fourth place finish in the pole vault at 3.25 meters.
Orlando said the team tried to come out strong on Saturday and do what they needed to do in order to qualify for the future meets.
"On a kind of chilly day like today, our goal was to get a good time and qualify for states so we can start the season on a high note — and we did just that," Orlando said.
Senior Molly Quinn and freshman Anastasia Diamond hit ECAC marks yesterday in the mixed 10,000-meter run. Quinn placed first at 39:30.26 and Diamond followd in second at 40:25.93.
Junior Jenn Randall clocked a 2:17.95 to place second and qualify for the ECAC meet in the 800-meter run. Senior teammate Heidi Baumbach also met the ECAC standard in the 5,000-meter run, placing third with a time of 18:35.88.
Freshmen Leigh Martino crossed the finish line first in the 400-meter hurdles at 1:06.81, just ahead of junior Ebonie Howard who took second with a time of 1:07.58.
Both senior Emma Dewart and junior Tammia Hubbard hit ECAC times on Saturday as well. Dewart won the 100-meter hurdles with a time of 15.01 and Hubbard clocked a 15.90, giving her a third-place finish in the event.
Dewart said the team was content with their times on Saturday since it was the start of the season.
"The more we practice, the better we are going to get," she said. "Today was a good starting point so I think we are going to see a lot of personal records and school records broken in the future."
The Bombers will look to continue their progress in their next meet April 7 at Cornell University's April Open.