Collectively, the wrestling team is ranked fourth in the latest National Wrestling Coaches Association rankings, but five individual Bombers with dominant performances last season have been motivated to achieve individual glory this season.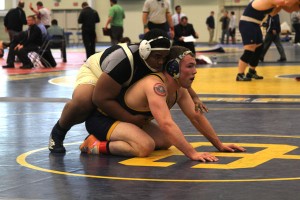 Five of the nationally ranked wrestlers on the South Hill squad — graduate students Jeremy Stierly and Nick Sanko, and seniors Derek Brenon, Seth Ecker, and Matt Mahon — are striving for a national title in their respective weight classes.
Ecker is the defending national champion in the 133-pound weight class, which earned him a No.1 ranking at the beginning of the 2011-12 season. He is also the only Bomber to win Most Outstanding Wrestler at the Ithaca Invitational twice.
Ecker said he owes last season's success to his teammates and the coaching staff. He said last season's achievements and this season's early success were a result of his concentration on the collective efforts of all of the Bombers' wrestlers.
"I just try to go in to every match and do whatever the team needs," he said. "When it comes down to my opponent and me it's always really situational for me."
Stierly was a runner-up at last year's national championships in the 141-pound weight class. He reached last year's final and lost to University of Wisconsin-La Crosse junior Bebeto Yewah.
Stierly said winning a national title would be the ultimate honor.
"I've really progressed the past few seasons, but when you're able to compete and win at that level, you know you're one of the best," he said.
Brenon is the third-ranked wrestler at 157 pounds, but he said he has failed to meet his own expectations since he transferred from Jefferson Community College two years ago. Brenon entered last season's national championship as the No. 1 seed at 157 pounds, only to fall to Centenary College sophomore Chris Burdge in the first round. He had anticipated a rematch with Burdge at last weekend's Ithaca Invitational, but was eliminated by Johnson and Wales freshman Terrance Bennett in the second round.
Brenon said persistence and staying focused on each individual match were the most important factors for him to win a national title.
"I'm still trying to be top four in the nation, and I'm just trying to take things one at a time," Brenon said. "I want to get my name on the school's wall of honor."
Burdge took second at last weekend's Ithaca Invitational and is currently the second-ranked wrestler in the 157-pound weight class.
Sanko said he aspires to stay healthy this season after missing most of his sophomore and junior seasons with an injury. He went 18–6  last season before making his first trip to the national championships and losing to Ohio Northern College senior Luke Miller.
Sanko entered this season in sixth place in the NCAA rankings and made it to the finals of the Ithaca Invitational before he lost to New York University senior David Rice.
Mahon also lost in the first round of the NCAA Championships last season and in the second round of  the Ithaca Invitational to begin this season. He set the school record for pins with 19 last season.
Though each one of the five nationally ranked athletes on the roster are contending for individual recognition, they all want the team to win the program's first National Championship since 1994.
Senior Max Cohen, who was a last-minute addition to the group the Bombers sent to last year's NCAA Championships, said the team is capable of having more wrestlers earn national recognition in Division III.
"We want guys in all 10 weight classes to be ranked," he said. "We want 10 All-Americans, and this is the best squad that I've been on in my four years so it's definitely
a possibility."