The wrestling team finished eighth at the New York State Wrestling Championships this weekend at Cornell University. Seven Bombers achieved all-state honors in the tournament that featured teams in all collegiate levels.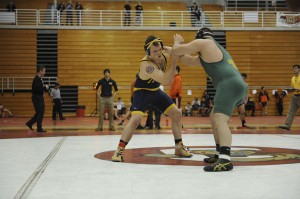 Junior Jules Doliscar was the Bombers' best performer with a third-place finish in the 174-pound weight class. As the second seed in the weight class, Doliscar defeated Cornell sophomore Mike Alexander but lost to third-seeded SUNY-Buffalo freshman Jake Waste in the semifinals.
Sophomore Dominick Giacolone moved up to the 133-pound weight class and finished sixth. Freshmen Grant Dickey and Marvin Amazan each finished seventh in the 165- and 133-pound weight classes.
Senior heavyweight Matt Mahon had a disappointing seventh placed finish after being seeded third overall. Mahon's tournament started brightly with a pin just 20 seconds into his first match before being upset 3-2 in the quarterfinals by Niagara County Community College sophomore Lance Moore.
The Bombers will travel to SUNY-Oneonta for their penultimate dual-meet of their conference season Wednesday.