Before tonight, Derek Brenon's season had been far from ideal, but tonight may be the start of a turnaround for the senior.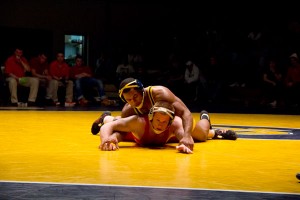 Brenon officially voiced his return with an exciting 4-3 win over Cortland junior Troy Sterling, the nation's fourth-ranked wrestler in the 157-pound weight class, and helped the wrestling team defeat no. 13 Cortland 22-9 at Ben Light Gymnasium on Wednesday.
The Bombers won each of their first five matches and never looked back in a battle of two nationally-ranked opponents. Brenon was less than a minute away from winning before Sterling recorded a takedown to tie the match with less than 30 seconds left in the third period. But Brenon's escape with one second left gave him the decisive point. It was Brenon's fourth straight win and he said he was delighted in his recent form.
"I'm definitely peaking and this is the time to peak," he said. "I'm feeling great right in time for conferences and nationals."
Alex Gomez recorded what he called his best win of the season with a 2-1 decision over eighth ranked Brian Bistis. Gomez said he was not concerned when Head Coach Marty Nichols moved Gomez from the 133 pound weight class to the 141 pound class.
"I have great partners in the room, I was ranked number five before so I was confident moving up a class," Gomez said.
Sixth ranked Nick Sanko found himself on the wrong end of an upset as he was defeated by Cortland junior Jonathan Conroy 3-1. Conroy recorded the decisive takedown midway through the third period.
Before the meet, Jeremy Stierly, Seth Ecker and six other seniors were honored in senior night festivities. The end of their careers was the only thing Nichols expressed disappointment in tonight.
"I wish I could have them back next year," Nichols said.
The Bombers finish the year with a 14-2 record in dual meets.  This was the final dual meet of the season for both teams as they prepare for the ECWC Championships February 25th at SUNY Brockport.