As the April 19 New York state primary elections approach, 2016 presidential candidates are making their way through the state to rally support. Some Ithaca College students are going the distance to see the presidential hopefuls speak in person.
After rallying in Rochester and Albany, Republican frontrunner Donald J. Trump will be stopping in Buffalo on April 18. Republican candidate Ted Cruz made a stop near Albany on April 7 , and his campaign announced April 13 that he will be visiting Binghamton on April 15. Cruz came under fire in January for his comments on "New York values" during a debate, generally characterizing residents of New York City as liberal. Hillary Clinton spent April 11 in the New York City and Long Island areas hosting fundraisers.
Vermont Sen. Bernie Sanders and Ohio Gov. John Kasich held the closest rallies to Ithaca, with Sanders in Binghamton on April 11 and Syracuse on April 12 and Kasich in Syracuse on April 8. Sanders also toured Rochester, Syracuse and Poughkeepsie. Kasich plans to make an appearance in Watertown on April 15.
Senior Dominick Recckio, president of the Student Government Association, and sophomore Aska Muok both attended Sanders' rally in Binghamton on April 11. Sanders is running for the Democratic nomination. Both Muok and Recckio said the energy at the rally, which attracted an estimated 5,000 people, was positive and exciting.
"I don't think that a moment went by before Bernie got on the stage where people weren't cheering," Recckio said. "Bernie just kept the energy the entire time."
Sanders is the first presidential candidate to visit the Southern Tier of New York since George W. Bush in 2000, according to a Binghamton-based news outlet, Press & Sun Bulletin. Recckio, who supports Sanders for president, said he thought coming to the Souther Tier was a smart move on Sanders' part.
"He talked a lot about Southern Tier issues," Recckio said. "He talked about fracking, and he talked about the $15 minimum wage … and he was pretty critical of Gov. Cuomo, too, which went over really well.
Recckio said he woke up at 5 a.m. to travel to Binghamton, and both he and Muok said they missed classes to attend, which they thought was worthwhile.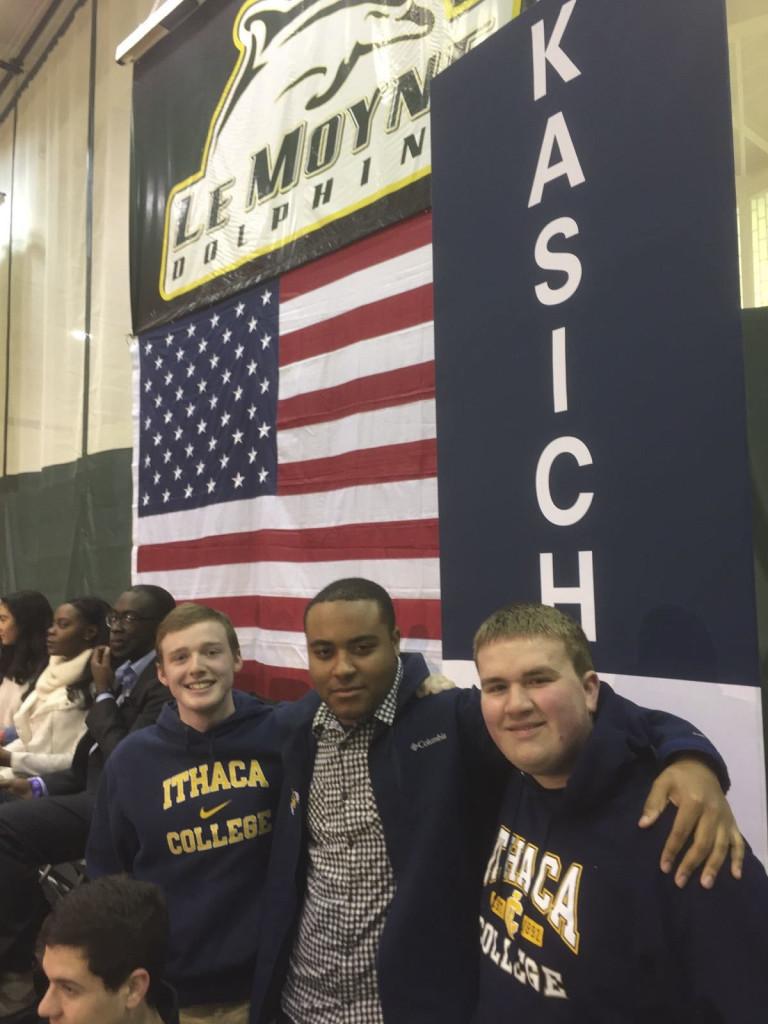 Freshmen Thomas "TJ" Horgan and Seondre Carolina, senator-at-large in the SGA, traveled together to Syracuse on April 8 with a Republican friend to see Republican candidate John Kasich speak. Although Horgan and Carolina are both registered Democrats, they said attending the Kasich rally, which drew in about 1,000 people, was a valuable experience for them. Horgan, a Sanders supporter, said Kasich's message of "compassionate conservatism" resonated with him.
"I don't hate John Kasich, so I said, 'Yeah, why not?'" Horgan said. "I would say that I learned more about John Kasich's platform … it reinforced my idea that he would easily be the best Republican candidate. He had a very different approach to what we're used to seeing from the Republican Party this election cycle."
Carolina, also a Sanders supporter, said if the vote were between Democratic front–runner Clinton and Kasich, he would vote for Kasich.
"He's bipartisan — he's willing to talk about things and negotiate and actually kind of speak to what's able to be accomplished in regards to immigration, ISIS, prison reform and all the general basics," Carolina said. "He's more reasonable."
Muok said she wanted to go to the Binghamton rally to help her decide between Sanders and Clinton. She said her parents are both supporting Clinton and that before she attended the rally, she thought Clinton was the "safe" candidate to vote for. Muok said she is now leaning toward voting for Sanders and that she liked how he spoke about issues that affect the future — like climate change — instead of just current issues.
Muok said attending the Sanders rally inspired her to get more involved in politics.
"I just think that people should look into these issues instead of just taking what politicians are saying," she said. "I don't think some of the candidates are saying anything true — they're just saying what people want to hear."
Horgan said it didn't work out for him to attend Sanders' Binghamton rally, but he would like to attend a Donald Trump rally if the opportunity presents itself.
"I've been interested in politics my whole life," Horgan said. "I'm very excited to see how the votes chalk up, but overall, I'm glad that I'm finally going to be able to vote and make more informed decisions."