Transition has been a pertinent part of Ithaca College junior JR Zazzara's athletic career. As a junior in high school, he transitioned from a decision to play Division I lacrosse at Syracuse University to a decision to play Division I football at the University at Buffalo. Then while playing football at the University at Buffalo, he made the transition from quarterback to wide receiver.
Zazzara's latest transition has him playing football at a new school. He transferred to Ithaca College for his junior year and is now hitting the gridiron for the college's Division III football team as a wide receiver.
He said he made the decision after Solomon Jackson, his close friend and teammate at the University at Buffalo, died of complications from a medical emergency during an offseason workout. He was 20 years old.
"It put in perspective for me what the game of football is all about," Zazzara said. "From my experience, Division I football was more about the cameras and less about the game. It wasn't about the camaraderie, the tradition, the love and the passion, and that's what it's all about at Ithaca, and when I went to transfer, that's all I was looking for."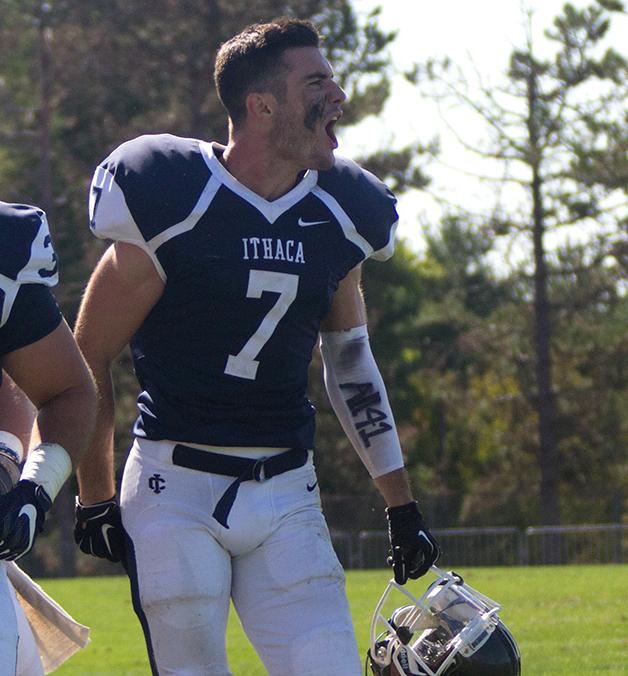 Zazzara will honor Jackson this season by wearing a forearm sleeve with Jackson's jersey number, 41, written on it.
When he decided to transfer to a Division III school, Zazzara said, the South Hill was the only place he had his eyes set on. He had visited the college several times to see one of his best friends from home, junior Sidney Vallery, who used to be a member of the football team. He said he made enough friends from those visits that he knew he would not have a problem fitting in.
Zazzara also said that once he arrived on campus and began playing with the team, he knew he had found what he was looking for.
"Everybody wants to do it for each other and not just for the people that are in charge of them," Zazzara said. "The leaders of the team really exemplify what it means to be a Bomber, and I always said it didn't matter where I was playing — I just wanted to play for the right reasons, and Ithaca had all the right reasons."
Zazzara said he was also familiar with senior starting quarterback Wolfgang Shafer, as the two are from the same town of Fayetteville, New York, and played against each other in high school back when Zazzara still played quarterback.
He led the Christian Brothers Academy to consecutive section championships and was named the MVP of both championship games during his junior and senior years of high school.
Zazzara only had one catch in the Bombers' first game of the season against Union College on Sept. 3, but it was a 40-yard bomb in which he outjumped the defender to put the Bombers on Union's 1-yard line, leading to a touchdown three plays later.
After being recruited originally as a quarterback in Buffalo and having no experience at playing other positions, Zazzara decided to switch from quarterback to wide receiver because of his love for playing football and his desire to help out his team as soon as possible. He said he saw an opportunity early into his freshman year at Buffalo and decided to make
the switch.
"One week into our fall camp my freshman year, I decided I didn't want to sit and wait a couple of years for an opportunity to play quarterback, and I'm athletic enough where I thought I could make a difference at receiver, so I asked the coaches if I could switch," Zazzara said.
Shafer said Zazzara shows the same amount of potential as a wide receiver as he did as a quarterback.
"I wasn't sure what he would be like as a receiver, being that he used to play quarterback, but he has all the ability in the world," Shafer said. "He has great hands, great range, a great catch radius, and he has the speed and size to do it all."
Wide-receiver coach Tom Coughlin said Zazzara's work ethic is what sets him apart from other players.
"He's an incredibly hard worker, and he's the kind of guy that if he makes a mistake, he doesn't make it twice," Coughlin said. "From an athletic standpoint, he's a very crisp route runner, he catches everything, and his overall athleticism is great."
Shafer said Zazzara is the type of player who can make a big impact on an offense.
"He's the kind of guy where if you throw the ball in his direction, he will go up and get it no matter how the defense is playing him," Shafer said.  "You could put him anywhere in the offense, and he would produce for the team."
During his freshman year of high school, Zazzara committed to Syracuse University to play lacrosse but decommitted during his junior year of high school because he decided he wanted to play football in college. He said the choice was not met with full-fledged support but he loves football too much to pass on the opportunity to play in college.
"A lot of people said that I probably should have stuck with lacrosse, but there's no other game like football," Zazzara said.