A fraternity house at Cornell University is crammed with people. It's a private party with fraternity and sorority members all packed into a room no bigger than 75 feet by 75 feet. It's a frigid Friday night on Oct. 28, but inside the room, it's a muggy 80 degrees.
It may seem like this is going to be an average frat party — sorority sisters dressed as cats and bunnies; frat bros dressed as frat bros in jerseys.
But hours before the party, a professional began setting up the sound equipment and lights. One member of the fraternity estimated that they invested $4,000 into the show. They even hired massive Cornell football players to work as bouncers, one blocking the handful of women who tried to get onto the stage.
The fact that the fraternity had hired a newly signed DJ set it apart from the other fraternities.
At 21 years old, Ithaca College senior Joel Almand signed an exclusive singles deal Oct. 14 with PRMD Records, a label that also signed the Grammy-nominated Avicii and Swedish electronic music duo Cazzette.
His look exudes DJ: He has floppy hair with bleached tips covered by a plain, fitted black hat. He's wearing an oversized white Cornell lacrosse jersey over a gray hoodie and black skinny jeans. But as he steps onto the stage behind his DJ mixer, he seems a little inconspicuous. He doesn't take the microphone and scream at the crowd some cliche. Instead, he gets right to playing music.
It takes a while for the crowd of about 200 people to warm up to him, but once the beat drops on his remix of The Chainsmokers' hit song "Closer," the entire crowd starts jumping. The walls are shaking, and the floor is bouncing. It's so loud that people have to yell into one another's ears to talk. The room is lit in a pink haze. Violet, electric blue, emerald, carnelian and yellow lights flash erratically over the crowd.
During the winter of 2015, Almand took home third place at the Campus DJ National Finale. Sometimes he remixes songs, such as "Castaway" by King Deco, and gets twice as many plays on SoundCloud and Spotify as the original.
Outside of the hours he's spent producing and playing music at college campuses around the country, he has still gone through a number of struggles. He was involved in a relationship that turned toxic, battled depression his junior year and at one point had no idea what he wanted to do after college.
Almand's debut single, "Don't Manipulate," will be released Nov. 19. He said it'll be one of the first times he has produced an original song since a tragedy during his senior year of high school led him to making his own music.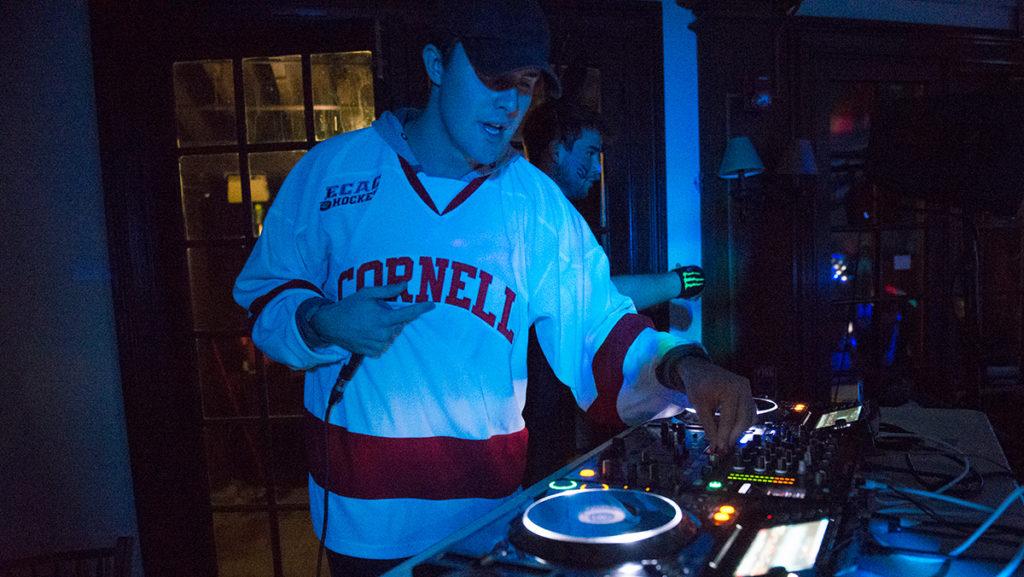 High School
Almand grew up 150 miles northwest of Ithaca in Buffalo, New York, and attended Nichols, a small, private prep school. This is where Almand began his career as a DJ.
He started by watching YouTube videos of Tiesto, whom Almand calls the "father of modern DJing and electronic dance music [EDM]." During his sophomore year at Nichols, Almand formed a DJ duo with his friend, Simon Wilson, titled "Magic Eight."
Yet, Almand wasn't buying a car or new shoes — he estimates that he spent $5,000 on better DJ equipment in high school. They began DJing high school dances and made about $30,000 in two years.
For his first couple of years as a DJ, Almand said, he and Wilson didn't do much.
"We were basically just pressing play on a laptop," he said.
After a falling out with Wilson, Almand said, he rebranded himself as DJ Almond and began releasing his own mashups on SoundCloud.
During February of that year, tragedy hit one of Almand's closest friends, Wilson Vershay, when his father, Scott Vershay, died of a heart attack. Almand said Scott was a family friend. Weeks after Scott's death, Almand decided he wanted to do something to honor him and help the Vershay family. He bought Logic Pro X, a professional music software, and spent a month writing, producing and editing a song with Raina Duggirala, his friend and singer of the song. The song, titled "The Shepherd," garnered attention from his community.
"It got shared a lot," Almand said. "It was like a lot of pity plays and pity shares. But that was when I was first like, 'Damn, maybe I should just continue doing this.'"
One of Almand's childhood friends, James Grachos, said the song was very popular among the school community.
"It was pretty spectacular, and the whole school rallied behind it," he said. "That was really the moment that I realized he should do this for a long time."
College
As a television-radio major, Almand found time to continue making music while balancing classes and working on multiple ICTV shows. This mainly consisted of mashups and remixes of popular songs while still occasionally attempting to create original songs. He was amassing 5,000–10,000 plays on each of his songs on SoundCloud. He won a contest to perform a set at the BeachGlow music festival in New Jersey in July 2014 in front of 2,500 people.
Almand's big break came during the fall of 2014, his sophomore year, when he released a remix of The Chainsmokers' song "Kanye" with SAMME, a DJ from Mexico whom he had met online. The Chainsmokers, which are going onto their 10th straight week atop the Billboard charts for their hit single "Closer," tweeted out praise of Almand's remix and linked to the song.
Within a few days, the song had amassed over 400,000 plays on SoundCloud and climbed to No. 2 on Hype Machine, a music blog aggregator with a large following.
Almand made that remix the new foundation of his music career. He deleted all of his other music off SoundCloud.
"I deleted everything else after that. I was like 'F— that,'" he said. "I'm going to start here and brand myself as this 400,000-hit kid."
He used the attention he got from that remix to launch a small college tour during the fall of his sophomore year. He played at parties at the University of Michigan, Miami University in Ohio, Pennsylvania State University, Cornell University, Syracuse University and Providence College.
Grachos said he doesn't think most people thought Almand was going to become a popular musician.
"I don't think that people really realized that music was going to be his thing," he said. "But I think everyone knew that Joel was going to be something out of the ordinary — something special."
Despite winning regional quarterfinals of the Campus DJ contest at Colgate University that fall, Almand said he is no longer impressed with the work he produced during that time.
"That whole year I was copying sounds, copying templates, not finding my own sound," he said.
Almand said he was flying high as he entered the summer before his junior year. His remixes were receiving hundreds of thousands of plays on SoundCloud, and he received shoutouts from The Chainsmokers and Timeflies.
But in the fall of 2015, his junior year, Almand began battling depression. He said the depression stemmed from breaking up with his girlfriend and his brother's going to Japan to serve in the Navy. He temporarily lost his passion for music and stopped releasing songs.
Mark Gross, Almand's roommate at the time and one of his good friends, said the lifestyle surrounding EDM is often toxic, which he said he thinks may have contributed to Almand's almost giving up on making music.
"He almost quit," Gross said. "The culture of EDM itself is all based on drugs and alcohol. There's never really the appreciation of the music. It's more like, 'What can the music do for me in this environment?'"
Gross said he thought Almand needed a new setting.
During late October 2015, Almand decided to spend his spring semester in New York City at the Ithaca College New York City campus. During late November, while beginning to escape his depression, Almand was invited as a wild-card contestant to the finals of Campus DJ, after having to miss the semifinals the previous spring due to a test for school. Almand placed third at the Campus DJ finals and began distancing himself from his depression that had plagued him that fall.
During the Spring 2016 semester, Almand interned for Nickelodeon's promotional content division and was able to make connections in the music industry.
"New York City was the first time I decided I'm going to do music full time," he said.
In June, Almand began releasing remixes again, this time just as Almand, changing his name once again.
However, his big break would rise from the ashes of his depression that fall. He had written an original song that tried to express his depression and sadness, which would later be titled "Don't Manipulate."
"A little bit [of the songwriting] was when I was making music, but not making originals," Almand said. "But then I went back to it when I was sad and made it sadder. Then I spiced it up a little bit."
In the midst of his depression, Almand had sent the song to Sterling Fox, a songwriter who has written songs for Britney Spears, Boyz II Men and Lana Del Rey. Previously, Fox had asked Almand to remix his original song "Freak Caroline." On SoundCloud, the remix received over 10 times more plays than the original. It also climbed to the top spot on HypeMachine. Fox said he was impressed with Almand.
"He's always picking very unique sounds that nobody else is using," Fox said.
When Almand sent Fox the instrumental for "Don't Manipulate" in October 2015, Fox said, he knew it was special. Fox and fellow songwriters Matt Hartke and Sean Kennedy collaborated to write lyrics for the song, and Kennedy is the singer. However, when Almand became depressed, it was unclear if the song would ever see the light of day. When Almand began releasing music and playing songs again in June, the two linked up to finish the song. Fox sent it to PRMD Records, where he had connections from writing songs for its premiere artist, Avicii.
In July, Almand and Fox met up with representatives from PRMD for the first time. By August, a deal was in place. PRMD offered an exclusive singles deal, which requires Almand to produce one single and gives the label the option to ask for two more if the first one proves to be successful. It took eight weeks for Almand's lawyers and the label's lawyers to finalize the deal, but on Oct. 14, he finally signed it.
"It was so sick because it was finally happening," Almand said.
Almand said "Don't Manipulate" is unlike anything he has created before. He said his relationship with a girl at the college inspired this song.
"It's about this guy who's fed up being wrapped around this girl's finger," Almand said. "One part of it goes, 'I don't want to be your f—boy/ I don't want to be your friend/ I don't want to be a missed call every time you hear it ring.'"
The song is made for radio, Almand said. He called it a pop-electronic song, a genre that encompasses current radio hits "Let Me Love You" by DJ Snake, featuring Justin Bieber, and "Closer" by The Chainsmokers.
Almand said that if the song is successful, he hopes to continue producing singles and follow The Chainsmokers' model of finding commercial success without releasing a full album.
Fox, who's an industry veteran, said Almand's career is off to a promising start.
"I'm excited to see him progress musically and hope he sticks with it," Fox said. "If he does, it's really promising where he could go with the music.
"I think that there's only good things ahead if this is his first song. I can only imagine what's to come in three or four years down the line."
Almand's debut single, "Don't Manipulate," will be available on Spotify and iTunes on Nov. 18.