This article has been updated with a comment from Lance Salisbury, Green's defense attorney.
Nagee Green, a 23-year-old man from Freeville, New York, has pleaded not guilty to two charges related to the Aug. 28 stabbing of Ithaca College sophomore Anthony Nazaire.
Green was charged with one count of second-degree murder, a class-A1 felony; and one count of assault in the second degree, a class-D felony, said John Barber, chief of the Ithaca Police Department, during a Nov. 7 news conference. Green allegedly stabbed Nazaire and another currently unidentified 19-year-old student from Ithaca College just before 2 a.m. outside an Omega Psi Phi event at Willard Straight Hall on the Cornell University campus, following a "large fight," Barber said.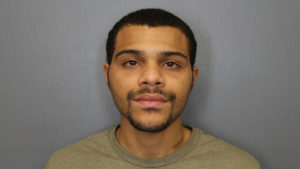 Salisbury, who said he was assigned by the court to Green's case the day of the arrest, Nov. 7, said the prosecution will present its case against Green to the grand jury Nov. 9 and 10, aiming for an indictment by the end of the day Nov. 10. He said Green will be arraigned again in Ithaca City Court by the end of the following week or early the week after.
"These are all sort of preliminary procedural matters to get to the county court," he said. "The appearance last night is just an initial process that starts the legal ball moving."
He said the second indictment could add more charges to Green's case, which he said is normal.
"It's up to what they think their evidence is and how different prosecutors like to proceed," Salisbury said.
Green had a handful of family members in attendance at the arraignment at Ithaca City Court on Nov. 7. One told Green to keep his head up when he entered the courtroom handcuffed and escorted by an Ithaca police officer. Richard M. Wallace is the judge in the case.
Green is being held without bail in Tompkins County Jail. His defense attorney is Lance Salisbury, director of the Criminal Defense Trial Clinic at Cornell, a practicing lawyer in Ithaca and the supervising attorney for the Tompkins County assigned counsel office. Salisbury said during court that Green had no previous convictions.
Green had been arrested for unlawful possession of marijuana and a misdemeanor for seventh-degree criminal possession of a controlled substance, cocaine, in April. He was also charged with a felony stolen property charge in December 2013 after he and two other men were found in possession of firearms.
Green hugged his mother before being escorted from the courtroom.
He will appear before a grand jury at 1:15 p.m. Nov. 10 at Ithaca City Court.
Assistant News Editor Kyle Arnold contributed reporting to this article.