The sounds of clapping and voices reverberate through the Glazer Arena as teammates on the Ithaca College women's track and field team cheer one another on. This is accompanied by the all-too-familiar sounds of feet repeatedly hitting the blue rubber track. In the midst of this composition, there is an intense yet quiet demeanor to senior Sara Garvey's pumping arms and quick strides as she keeps pace with her fellow sprinters.
It wasn't always this way for Garvey. She has only been back on the track since January, when she was cleared to compete again for the first time since she was a senior in high school, after a battle with leukemia.
"It's freeing to run again," Garvey said. "It's something that I enjoy, so I wanted to get back at it. I'm feeling really good. I definitely feel a lot better speedwise, too. Getting back into things with the team and not just running by myself has been really helpful."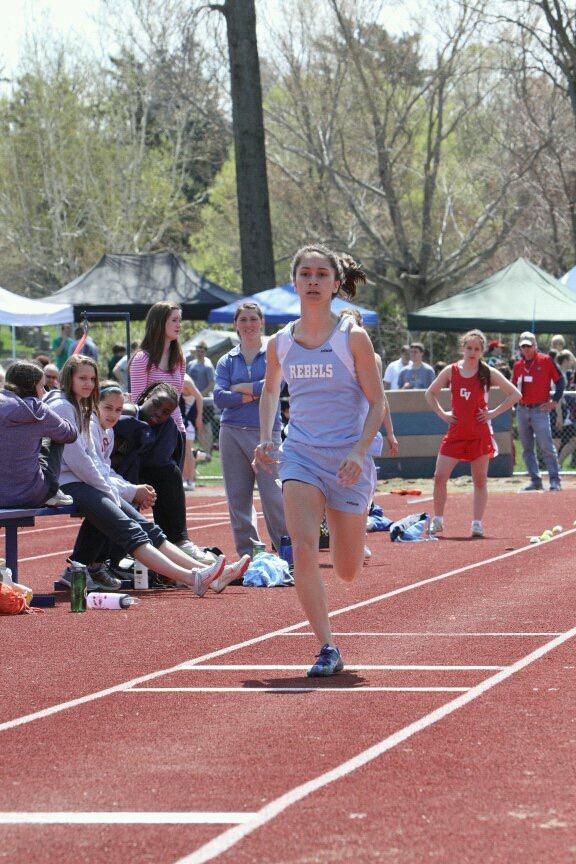 Garvey first noticed something was off during her final year at South Burlington High School in South Burlington, Vermont, when she found herself getting sicker and more fatigued than usual. But the most obvious indication that something was out of the ordinary was her running times.
Before, Garvey generally never got ill. During her junior season in high school, at the 2011 Vermont State Indoor Meet, Garvey placed second in the 55-meter dash with a time of 7.47. But a year later, in 2012, she was unable to qualify to compete in that same event.
Garvey still managed to place second in the 4×200-meter relay, third in the triple jump and fourth in the long jump, helping her high school squad secure the state title. It was only a few days after the meet, however, that Garvey would discover what was wrong. After seeing her primary care physician and receiving a blood test, Garvey was sent to the hospital, where doctors performed further blood tests.
All she was hoping for were answers to why she was feeling more fatigued than normal and why she was experiencing such bad leg pain. Following hours of nervously waiting for the results — though no amount of time could prepare her for the news she would receive — Garvey was diagnosed with acute lymphoblastic leukemia.
"Me and my dad were both in shock," Garvey said. "I had to do a bunch of tests that day, but that's kind of a blur. That same day, I just stayed there in the hospital inpatient, and they started chemo right away. I never really got sick ever, so going from nothing to 'you have leukemia' was a scary thought."
As she lay idly curled up in her hospital bed at the University of Vermont Medical Center in Burlington, Vermont, in disbelief, she thought about how it was only a few days earlier that she had been competing at the state meet. Now, she was getting hooked up to chemotherapy pumps, asking herself why this was happening.
Her passion for running, which emerged at age 7, was put on hold. She played other sports, like soccer and basketball, but running came naturally, and she was speedy from the start. And though she wept as she found out the staggering news, she knew one day she'd be back doing what she loved.
From that point, Garvey would undergo treatment for two years until May 2014, despite being given remission status about a month into treatment. The chemotherapy drained her physically — the only exercise she could manage was walking around the pediatric wing of the hospital or riding a stationary bike, if she could muster the energy.
"I got really sick," she said. "I was vomiting a lot. I was really tired all the time. I remember sleeping most of the time just to get through the day."
Despite her fatigue, Garvey said she still tried to remain positive throughout treatment. Even though her friends and family would come visit and stay with her in the hospital, it certainly was not what she had in mind for her senior year of high school.
Yet Garvey still managed to graduate on time — her doctors even allowed her to walk during the ceremony — because she had been doing well enough in her classes at the point of her diagnosis.
Before Garvey was diagnosed, she had been looking to compete for the college's track and field team. Jennifer Potter, head coach of the women's team, said she had been recruiting Garvey early on in her senior year, if not in her junior year.
Since Garvey would still be getting treatment for an extended time, she decided to defer her admission to the college a year. When her father, John Garvey, found out his daughter had cancer, he emailed Potter to explain the circumstances of her diagnosis.
"Coach Potter said she would help us get through this, and even though Sara hadn't even started her freshman year at Ithaca College, she had the support from her track and field team," he said. "Sara's goal was to get healthy, attend classes at Ithaca College and get back in shape so she could compete at the college level."
Over the course of the year that Garvey was at home getting treatment, Potter and Garvey never lost touch. When Potter received the news that Garvey would be able to come to the college in Fall 2013, she said she was excited to finally have her be a part of the program.
"That was a person that we had recruited to come to Ithaca, and I wasn't going to change my mind after what I found out," Potter said.
When Garvey came to the college, she still had to undergo treatments. This entailed a trip to Syracuse, New York, every other month to receive chemotherapy.
During her freshman year, Garvey said, she did start practicing, but she developed osteonecrosis, a bone condition, from a steroid that was cutting the blood supply in her right ankle.
For the next two years, Garvey would be barred from any weight-bearing activities. In the meantime, Garvey was a manager for her squad, which meant she was helping Potter with timing and setting up drills for her teammates.
Senior runner Rose Paskoff said that even when Garvey was not running, she was still a big part of the team in her managerial role.
"Just the fact that she was able stay on the team from freshman year until senior year without being able to compete for basically three-fourths of that time is amazing," Paskoff said. "There are people who won't compete one year and will be gone the next, and she didn't even practice. She couldn't practice. She couldn't compete, but yet she would come to all our practices and meets and be there
supporting everybody."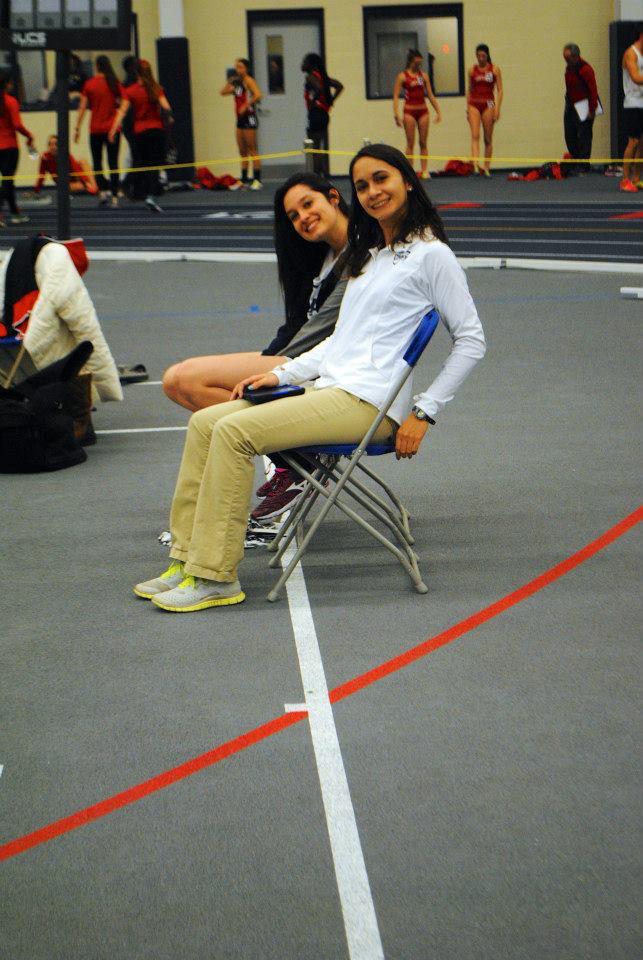 Garvey and Potter also managed to create some workouts that were not weight-bearing, which often included pool and bike workouts. Garvey said it was exciting to be part of a team again even if she could not compete yet, but it was still her goal to don an Ithaca College uniform and take to the track for the Bombers.
Finally, in January, Garvey was cleared to compete in the sprinting events. Once she was given the green light, however, she said she still had to be cautious of overtraining.
"I knew it wouldn't be easy right away, which I noticed from last spring, definitely," Garvey said. "I had slower times than what I was running in high school, but that was to be expected. It felt good getting back into the workouts again and being able to compete a couple times at least last spring."
Garvey's first race of her college career came April 26 at the college's yearly Tuesday Meet. In front of her teammates and coaches, Garvey ran in the 100-meter dash, securing a seventh-place overall finish with a time of 15.14 seconds. Garvey said that more than anything, she was excited to be able to compete in her first meet for the Bombers.
Potter said she could not have been more proud to see Garvey compete for the first time.
"She worked very hard emotionally and physically to get to where she was at that point," Potter said. "I knew she was nervous, especially not being where she was at one point in time. I was just happy to have her put Ithaca on her chest and have all of her teammates there to see her do it."
As Garvey lined up for her first race of her college career, all of her teammates grouped together to cheer her on. This showed to Paskoff how much Garvey means to the team.
"The first time she raced, our entire team basically stood there and watched, and that doesn't always happen," Paskoff said. "We try to support each other as much as possible, but the fact that pretty much everybody stood there and watched her race and was excited for her was incredible."
Garvey's first season for the Bombers also featured appearances at Cornell's Big Red Invitational and the New York State Collegiate Track and Field Conference Championships, where she raced as an exhibition entry.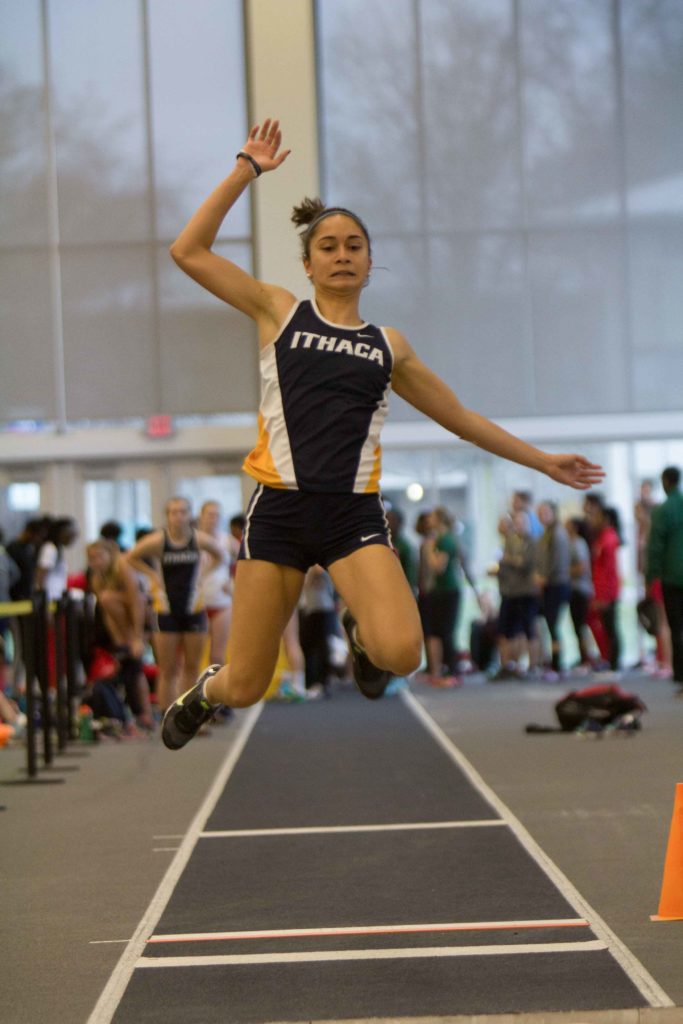 Now in her final season, Garvey said her goal is to get faster and stronger. After a four-year hiatus from competing in indoor track, she took 19th in the long jump and 33rd in the 60-meter dash Dec. 3, her first indoor meet, at the Greg Page Relays.
Potter said it is humbling to have been able to coach Garvey and she is excited to see her compete for a full season in her senior year.
"No one as an athlete, no one wants to not compete," Potter said. A lot of people would have just thrown in the towel, would have said forget it. It's been amazing to learn from her and be around someone who is positive and never gave up, and is so determined, patient and kind."
Garvey said she was always hopeful she could beat cancer and race again.
"It was just like another race," Garvey said. "People always think I am a positive person, and I'm always smiling, so they didn't have any doubt that I could beat it. It was just another hurdle or obstacle to get around."