Ithaca College is introducing two new housing programs and relocating three others in time for on-campus housing selection this spring.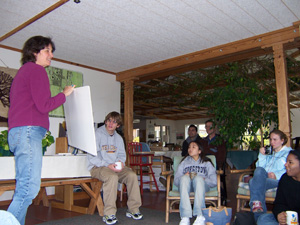 This fall, the college will add two more communities: the Outdoor Adventure Learning Community (OALC), located on the second floor of Terrace 8, and the Presidential Scholars Learning Community, located on the first floor of Holmes Hall.
The OALC will collaborate with outdoor adventure leadership majors and Chris Pelchat, an instructor for therapeutic recreation and leisure services and their faculty adviser. Pelchat describes the community as a combination of outdoor activities, including rock climbing, kayaking, rafting, survival skills and outdoor leadership.
"We're trying to build up the outdoor culture on … campus and create a real interest," he said.
The Presidential Scholars Learning Community will stress academia and unite all Presidential Scholars under one roof, said Dares Doskal-Saccido, associate director of Residential Life.
"There's definitely a movement on campus to look at the various scholarship groups and evaluate what it means to be a scholar," she said. "We want scholars to have additional requirements besides GPA."
With the new additions, the college will have 13 different living cooperatives. Communities introduced in the last six years include the Sustainability Conscious Living Community (SCLC) and H.O.M.E. (Housing Offering a Multicultural Experience), which will both relocate next semester. Applications to live in special housing communities are due Tuesday.
The SCLC was created two years ago through a grant, and will move this fall from the first floor of Terrace 3 into the entire Terrace 2 building.
The community focuses on using renewable products and sources of energy, said John Hopple, assistant professor of biology and faculty assistant to the SCLC. Students cook dinner once every two weeks using materials purchased from GreenStar, an organic market in Ithaca, and use other sustainable practices in their day-to-day activities. According to Hopple, SCLC has been so successful that all incoming freshmen will take a sustainability seminar beginning this fall.
"There's definitely a misconception that all sustainability students don't shower, [and] they eat granola," Hopple said. "But sustainability goes way beyond environmentalism."
Sophomore Philicia Kennedy-Flamer, the residential assistant for the sustainability floor, said she has learned more about sustainability from living in Terrace 3.
"It's the little things that I've taken away, things you can do every day to make it a little bit better," she said.
H.O.M.E., a living community for international and domestic students and MLK Scholars, will trade locations with the Sustainability Conscious Living Community in the fall and move into Terrace 3.
Pranay Bhatla, residential director for Terraces 1 through 4, said H.O.M.E. has received a positive community response since its inception in 2001.
"For five straight years, H.O.M.E. [has been] the strongest living community on campus," Bhatla said.
But not all students are thrilled with the relocation of living communities. Ashley Dennis, a freshman MLK Scholar, is worried that moving the H.O.M.E. program to a larger residential area could compromise its integrity.
"I am upset that H.O.M.E. may be moved to Terrace 3 next year," Dennis said. "Terrace 3 would not facilitate the same sense of community that exists in Terrace 2."
Jen Richardson, assistant director of housing services, said there is still great overall satisfaction with the special housing programs and that may be attributed to the enthusiasm of the students.
"The sense of community is very strong because everyone shares common interests and common beliefs," Richardson said. "There's a sense of belonging."