For the past three years at Ithaca College, the Finger Lakes Environmental Film Festival (FLEFF) has moved beyond traditional notions of environment to broader concepts and themes.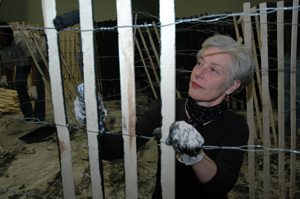 "We have a broad definition of environmental [that includes] social justice, race and war," said Tom Shevory, co-director of FLEFF and chair of the politics department.
This year, the festival — March 26 to April 2 — is continuing to expand with the inclusion of three silent films set to live scores, digital gaming, net art and guest speakers from five countries, Shevory said.
The festival will feature 100 exhibits by more than 26 artists on campus and downtown. This year's festival is the largest in its three years at the college, and includes live music with archival films,
poetry readings, digital media, art exhibits, screenings, mini-courses, forums, workshops and the world premiere of three feature films.
"We're the only film festival that has things other than film," Shevory said.
FLEFF, one of about ten environmental film festivals across the country, began in 1997 as an outreach project with the Cornell University Center for the Environment. In 2004, the college became the major sponsor of the festival, and in 2005, it moved completely to campus.
This year, the festival will focus on four themes: Maps and Memes, which explores the use of the term 'maps' and its relationship to culturally transmitted information; Metropolis, which focuses on cities' manipulation and influence on nature throughout history; Panic Attacks, which examines the effects of panic and how they can serve profit and power; and Soundscaping, the importance and politics of noise in nature and society.
Patty Zimmermann, professor of cinema, photography and media arts, co-directs the festival with Shevory.
"[The] streams present new ideas that are unresolved," Zimmermann said. "[They] serve the intellectual and research missions of the college to create an interdisciplinary project."
One of the main goals of the festival this year is to attract a larger audience, Zimmermann said. More than 36 guest speakers will facilitate discussions on campus and at each of the 26 films downtown to encourage participation, she said.
Shevory said he was not disappointed by last year's attendance, but wants the festival's popularity to continue to grow.
"Last year we had good audiences, but we want more," Shevory said. "We're trying to encourage more people to go downtown."
Students at the college will also have more opportunities to be involved in the festival, Zimmermann said. The festival hired 75 student interns, compared with only two work-study and two graduate assistant positions last year, she said.
"Last year, we did not have interns because it was our first year," she said. "We exceeded our expectations [last year], we had no idea there was that level of interest."
Junior Jennifer Chen, a FLEFF intern, markets festival events and helps coordinate the artists, writers and filmmakers that contribute to the festival.
"The core skills that a FLEFF intern is expected to exercise, which includes communication and marketing, can be very useful in any career," she said. "I'm always looking to [make] these skills stronger because it is so essential to anything that I may wish to do in the future."
Other additions to the festival include the Digital Art and Gaming Salon, which will showcase the work of digital artists and game designers throughout the weekend in the Roy H. Park School of Communications. FLEFF forums will bring together activists and academics to discuss HIV and AIDS, radical gaming, professional development, digital art and music and film.
Mini-courses will be offered during the festival. Warren Schlesinger, associate professor of business accounting and coordinator of the courses, said the popularity of the courses last year led to the addition of two new mini-courses for a total of seven mini-courses throughout the festival. So far, Schlesinger said, 38 students have enrolled.
Zimmermann said the festival applies to every discipline on campus and is an important learning tool for the community.
FLEFF Facts
The Finger Lakes Environmental Film Festival is hosting films, lectures and other events at Ithaca College, Cornell University and downtown.
This year, FLEFF will begin with a prefestival Tribute to The Beatles kick-off party at 8 p.m. March 23 at Castaways,
413–415 Taughannock Blvd.
Film times
Thursday, March 29
"Liberia: a Fragile Peace," 1:10 p.m., Friends 210
"Out of Balance," 1:10 p.m., Center for Natural Sciences 163
"Mohawk Girls," 2:35 p.m., Textor 103
Friday, March 30
"The Land Belongs to Those Who Work It," 11:00 a.m., Smiddy 108
"Radio Nonmdaa," 11:00 a.m., Smiddy 108
"God Sleeps in Rwanda," 3:00 p.m., Whalen 2312
"L'Intus," 7:15 p.m., Fall Creek Pictures, 1201 N. Tioga St.
"Havana, Habana," 9:35 p.m., Fall Creek Pictures
Saturday, March 31
"Les Temps qui Changent," 2:15 p.m., Fall Creek Pictures
"Cartoneros," 4:25 p.m., Cinemapolis, Center Ithaca, The Commons
"Fateless," 4:35 p.m., Cinemapolis
"Havana, Habana," 7:15 p.m., Cinemapolis
"Disappearances," 7:15 p.m., Fall Creek Pictures
"Namesake," 7:15 p.m., Fall Creek Pictures
Sunday, April 1
"Fateless," 4:35 p.m., Cinemapolis
"Jonestown," 4:35 p.m., Fall Creek Pictures
"Amen," 7:15 p.m., Fall Creek Pictures
"Disappearances," 9:35 p.m., Fall Creek Pictures
For more information about FLEFF and a complete list of event times and ticket information, go to www.ithaca.edu/fleff.