Some things in life just seem to come naturally, and with a mother nicknamed "the plant lady," this seems to be exactly the case with Victor Rosa, an Ithaca College groundskeeper.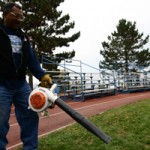 Rosa, who takes care of the flower beds on campus, said he never intended to work with flowers, even after growing up in a household full of them — which is where his mother got her name.
"But as soon as I got here and started doing the flowers," he said. "I started to feel the groove."
Rosa was one of four local residents honored Oct. 31 with the Pride of Workmanship Award from the Ithaca Rotary Club. The award is given for longevity in career, exceptional and consistent service and clear contributions to the unity of the workplace.
Rosa has worked at the college for eight years. In addition to his responsibilities as groundskeeper, he was also elected by his co-workers to be the staff-council representative for the college's Grounds and Transportation Department. Despite his popularity, Rosa said he was shocked to receive the award.
"I was speechless … my work is being recognized," Rosa said. "I was hoping there would be a lump sum of money, but they told me I only get a lunch."
Rosa said he took the job at Ithaca College for "economical reasons."
"In other words I needed a job," he said. "But then once I got here I learned quite a few things that I have never done before, [and] I like the guys. We had a little camaraderie going."
Rosa was nominated for the award by Carl Sgrecci, vice president of finance and administration at the college, by letter of recommendation.
"From seeds to full bloom and from watering to weeding, he nurtures [the Ithaca College gardens] on a daily basis as though they were members of his own, personal family," Sgrecci wrote in the letter.
Sgrecci said Rosa's work does not go unnoticed.
"You can just tell by watching him how much he loves what he's doing," he said. "[It's] because of the effort that he puts in along with the other members of the crew [that] the rest of the employees get to enjoy the pretty results."
Roger Casterline, director of Grounds and Transportation, said Rosa knows the birthdays of every staff member and buys them a cake for the occasion.
"He's always pleasant and upbeat, and he's a very hard worker," Casterline said. "He's very supportive of everyone he works with."
In addition to his dedication to his day job, Rosa is also involved in music on and off campus.
Every Saturday night from 7 to 10 p.m., Rosa hosts "Ritmo Latino," a radio show on WICB, the college's radio station.
Rosa said he has been involved with the show since he began working at the college. He started by bringing in music to add variety to the show, and the more music he brought, the more involved he became. When the original hosts had to leave the show in 2000, Rosa took over.
Rosa said the show has grown in popularity during the past seven years.
"Everywhere I go people are like, Ritmo Latino, oh you're the guy," he said.
Rosa also deejays for on-campus events like employee picnics and Christmas parties, as well as events downtown. He is a member of VoICes, the employee choir on campus, and recently formed a small band in which he plays the conga drums.
Rosa said he's been involved with music for as long as he can remember.
"Music enriches the spirit," he said. "You could be having a terrible day and then all of a sudden you hear a good song, and your day just livens up. [It's] like soul food for the spirit."
Casterline said Rosa puts everyone at ease with a constant smile on his face and that his friendship is valued by everyone he meets.
"We all consider him a great friend. I wish I had 20 of him," he said. "No one is more deserving of this award."
Rosa said his mother has since passed away, but she would be proud that he was continuing her passion.
"She's probably smiling knowing that I'm working with the flowers," he said.