Monday after Monday, juniors Tia Newsome and Julie Fruscio used to spend their lunch hour rehashing their failed attempts at a good party weekend. They frowned over beer-drenched jeans, moped over the lack of music and pondered why a dress and a pair of heels constitutes the label "over dressed." But as they sat in IC square waiting for a sign of party alternatives, a light bulb went off. Actually, it was the "Signatures Deli" sign.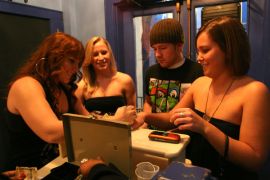 One semester later, the two have formed their own group — Signature Looks — to liven up Ithaca's party scene.
Newsome said that while Signature Looks may have been conceived from the sandwich counter's logo in IC Square, the group one day hopes to go beyond the Ithaca College campus.
"We want to throw Bat Mitzvahs, anniversaries, birthday parties and graduation parties," she said. "Hopefully one day even weddings."
The organization's goal is to cater to their clients' needs. "Signature Looks hopes to incorporate style, individuality and expressing your own personality in the events that they host," the group's mission statement says.
Fruscio said the differences between Signature Looks and other party organizations on campus are its professionalism, social connections and emphasis on style.
"We really want to cater to a sophisticated audience," she said. "We have a business plan written. We want everything to be professional. We want high class."
Newsome said while most college parties are thrown at a Circle Apartment, houses off campus, or at a local bar and restaurant, Signature Looks plans on elevating students' nightlife experience by throwing parties at larger venues.
Its first official party, a Halloween Masquerade next Friday, is at the Hilton Garden Inn on The Commons. The doors open at 10 p.m., and all college students are welcome to attend.
Carlos Porras, the sales manager at the Hilton, said he was impressed with the plan Fruscio and Newsome approached him with.
"They were great with me," he said. "They are very professional with what they are doing."
Newsome said it was important that Porras view Signature Looks as a responsible organization.
"We dropped off a business letter first before we even spoke to him," she said. "We dropped off our mission statement, and what we wanted from the Hilton and what we could do for the Hilton."
Newsome said the Halloween Masquerade will be a chance for students to showcase their own styles, whether it be flashy formal wear or crazy and classic costumes.
"You can come in a nice dress with a mask, or you can come in a costume," she said. "We don't have a preference as long as you are comfortable in what you're wearing. We just want people to come in their signature look."
To pay for the upcoming masquerade ball, Signature Looks organized two fundraisers that gave students a taste of what's to come.
The first party, thrown last month in a Circle Apartment, was a "Sexy Safari"-themed birthday party for Signature Looks' graphic designer Erica Farber.
Signature Looks decorated the apartment with palms and branches. It created a VIP lounge with sofas and chairs. The party's jungle vibe was fueled by leopard-print stilettos and animalistic face paint.
"The party was a total success," Fruscio said. "It couldn't have gone better."
The second fundraiser, thrown Oct. 10 at Pancho Villa, had a "Blackout" theme in which guests had to wear all black to offset the previous "white" parties thrown at the restaurant.
Senior Nicole Wright said the party surpassed the expectations of a typical Pancho Villa event.
"It wasn't packed, but there definitely was a good vibe," Wright said. "For a first [off-campus] party with little preparation time, it was really good."
Senior Charana Abeysekera, a member of the JR.MCS, a group of party promoters, said the duo's dynamic personalities will greatly benefit them in furthering the event-planning business.
"With the right backing, Signature Looks has the potential to be successful," Abeysekera said. "Working with the connections they have all over campus will determine the impact they make on Ithaca College."
Fruscio said Signature Looks wants the Halloween Masquerade to be the red carpet for creative and unusual outfits.
"If you want to come naked and you're comfortable like that, come naked," she said.