Sebastian Villa '07 plucks a carrot from a local farm in Ithaca and examines its freshness to make sure it will complement the flavors of the other vegetables and herbs he picks. For his Vietnamese restaurant, Xeo's Café, Villa makes sure that every single ingredient is local.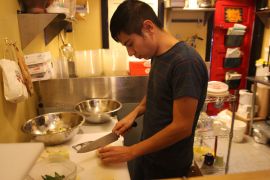 Villa is the owner, founder, manager and sole employee at Xeo's (pronounced "say-oh") in Collegetown. Luckily, he only has three tables to worry about.
Villa graduated with a Bachelor of Arts in drama and a minor in art history, but he said his passion for local food led him to open Xeo's on Sept. 16.
"A big part of the concept of the place is that there is one person in charge of food, from getting it out of the ground, to preparing it, to serving it," he said. "I'm all about keeping it simple."
Villa runs Xeo's from 8 a.m. to 8 p.m. seven days a week. The only time he is not in the café is when he is out picking up food from farms. He said his menu allows him to prepare most meals in the morning, making cooking multiple meals easier.
"Our mission is about knowing the food all the way from conception to serving it," he said. "It's about being strongly connected to the entire process. Everything starts with the food itself."
Customers may be surprised though, when they arrive at Xeo's and the café is closed in the middle of the day, but Villa said he enjoys going out to get food because it's important for him to know where the food comes from. He makes it a point to talk with customers about every step in his preparation process.
"I wanted to have a hands-on approach," he said. "I can tell you a story about everything I'm serving you, how I got it and how I prepared it. I just wanted it to be a really personal experience for the customer."
Cindy Kramer, an Ithaca resident for 18 years, said she enjoyed her first experience at Xeo's.
"What got me in the door was the sign outside that says, 'Locally grown,'" she said. "And I love the board inside that lists where all the food comes from. It's educational while providing good food as well."
Villa's strategically placed whiteboards hang above the counter, listing every menu items' description, price and ingredients.
Unlike the restaurant serving Vietnamese food across the street, Villa said he offers different menu options daily. He said with a large community interest in Asian food, opening a restaurant in Ithaca was easy. It also helps that Villa comes from an Asian background.
"My mom is Vietnamese," he said. "So she cooked Vietnamese food a lot, but it wasn't until I worked in a Thai restaurant that it kicked me back to those flavors I hadn't thought about for a while."
Villa said he never planned on getting involved in the restaurant world at first. He said what prepared him the most for running a business was not necessarily the degrees he received, but the organizations he was involved with at the college.
"I was in charge of IC Players and IC Triple Threat," he said. "And running those programs was like running a business. The budgets, hiring for shows — it helped me a lot. Directing a play is just like directing a restaurant."
But Villa didn't come into the business completely green. He worked for two years as a manager at Taste of Thai, which he said helped him tremendously when it came to contacting the right people to set up his own business. He said he wants to be the only worker in the restaurant for now. Villa said he likes handling everything from buying the food to ringing up customers.
Villa said Xeo's is currently the only restaurant in the city of Ithaca that serves food entirely made from local ingredients. He planned the menu around things he knew grew locally.
"The menu will change depending on the season," he said. "But I really want to keep it affordable. There's this stigma that local food isn't practical or that it has to be expensive. My dishes are really accessible."
Caroline Hugh, a senior biology and society major at Cornell University, said her bánh mì, a Vietnamese sandwich, at Xeo's tasted great.
"I can see the freshness," she said. "There's more flavor, and you can taste the difference."
Hugh said that the novelty of the café was what drew her in.
"It's really hard to know where your food comes from," she said. "In fact, most places you don't know. So I really appreciate that here it's made to order and fresh."