The women's crew has had to adjust its lineups because of injuries, relying on rowers from other boats to step up and fill the gap.
Switching rowers from boat to boat to compensate for athletes with upper-body injuries, as well as stress fractures, is something the Blue and Gold have had to adjust to this season.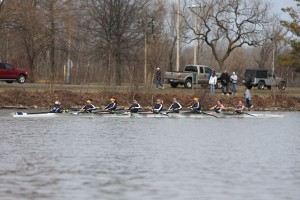 With 56 athletes on the roster, 36 of whom are underclassmen, the Bombers rely on the talented depth of the squad to step up when someone is sidelined.
"We had a couple girls with stress fractures in their ribs, which is kind of a common thing for rowing," junior Ruthie Goff, who rows in the third varsity boat, said. "We've also had a couple girls with back injuries, but that being said, we were able to bounce back."
The South Hill squad not only bounces back in competition, but also routinely overtakes opponents because of each boat's ability to adapt and incorporate a new rower into the lineup.
"You only have so much time in lineup," Kerin Murphy, who rows in the first varsity boat, said. "So when you're in lineup, you learn to row and work with the people in your boat. Anybody that just comes into the boat, the whole boat just makes an adjustment, so our team does a good job of refocusing and understanding that an adjustment needs to be made and just really capitalizing on the strengths of the boat."
In addition to switching boats — with rowers in the second and third varsity 8 having experienced the most movement among athletes — the ability to row in different seats is a factor taken into consideration if an athlete goes down.
"Even if we do lose someone to an injury, because we have so many girls who are able to row in different seats, row a different side, we were able to still put a boat out there that's been competitive," Goff said. "So, despite injuries, we've got a lot of talent on the team, and if something happens, we can definitely pull somebody from somewhere else and put them where we need them."
The first varsity 8 boat has been a rock all season for the Bombers, maintaining a consistent lineup. Losing only one rower from last year is something that junior Amy Gefell said has fueled the boat's success, as the No. 3 ranked boat in the nation, and developed a rhythm between the rowers.
"It's helped us because we've built a trust in one another," Gefell said. "We've rowed in the same lineup, there's only been one change between last year and this year, and we definitely have a camaraderie. We know each other well, we know each other's mentality, and we know that we all have the same goals. It contributes to us working well together."
Even before the start of the regular season, the Blue and Gold start to prepare through winter training, working to prevent injuries that occur during the grind of the season. At the beginning of the season, tendonitis is a "common injury" because of feathering — when a rower rotates the oar blade 90 degrees to the water before beginning the stroke again — which is just one reason rowers' training regimens incorporate aspects of injury prevention.
"We work hard, especially over winter training, to train hard enough and smart enough so that you're trying to prevent those injuries ahead of time," Murphy said. "I know that our lifting program incorporates some lifts that you are strengthening certain muscles, so that [when] you're getting on the water you're not ripping everything apart."
Wrapping up the regular season Saturday, the Bombers' focus is now shifted to the postseason and the changes that need to be made to keep moving forward.
"We definitely up our intensity," Gefell said. "[We] are looking to, obviously, improve as we head into states and [Eastern College Athletic Conference] championships and pushing forward to get the NCAA nomination."
With states Saturday, and ECACs and NCAAs a few weeks after, every athlete is prepared to contribute during the postseason run.
"By this point in the season, everyone is pretty much at optimum fitness," Murphy said. "We're always continuing to stay in shape and just make sure that going into the postseason you are as healthy and fit as you can be."