Head Coach Tracey Houk isn't the only one who's giving the field hockey team coaching input this season. New Assistant Coach Lindsey Hendricks has joined the team this season from Skidmore College and brings a whole new perspective to the field.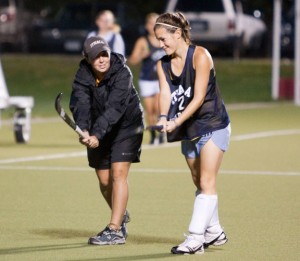 Hendricks, who received her bachelor's degree in elementary education from SUNY-Oneonta where she played goalie for the field hockey team, said her decision to leave Skidmore was influenced by the potential development she saw in the Bombers' program.
"Ithaca's field hockey team used to be one of the best," she said. "With the new turf field coming and the reputation of the college, I just had this feeling that the program could get back to where it used to be."
Senior defensive back Key Fox said the addition of Hendricks is a change for the better.
"Hendricks is so much more involved, and her voice is much louder than our assistant coaches have been in the past," she said. "Not only does she say what we need to work on, but she gives us the tools and the instruction on how to get to that level."
Hendricks said she had already met some of the current athletes at clinics and tournaments and it was an added draw before she got the job.
"I had tried to recruit them before, and I had coached them as well," she said. "It gave me really good insight to what kind of athletes I would be moving to coach."
Hendricks, who worked as the assistant coach for a nationally ranked program at Skidmore, was also a coach for the USA Field Hockey Futures Program, a national high school developmental program.
Houk said Hendricks' approach to the game has allowed them to work together on the sideline.
"[Hendricks] brings new ideas and she's got a great attitude," Houk said. "She puts in a lot of time. Her philosophy is very similar to mine so that makes it easy as well."
Hendricks has also introduced  some new drills to the Bombers. Fox said one drill the team is working on is similar to a screen or isolation play in lacrosse or basketball. The center midfielder will hold the ball as the rest of the players draw their defenders away to the opposite side of the circle.
"In past seasons it's just been let's get down to the circle, move the ball around, keep supporting each other," Fox said. "But this year she introduced actual specific plays to run in the circle."
While both Houk and Hendricks encourage the players to reflect on their play, Fox said Hendricks is one to constantly remind each athlete and is placing more emphasis on it.
"She wants us to really look at our play and analyze it to see where we messed up and how we can make sure to not mess up in those same areas next time," Fox said.
Hendricks said though she has a teaching degree, she does not plan on using it anytime soon because she has found a job she loves in coaching.
"For me, giving back to what I love has been priceless," she said. "It's nice to see eureka moments in players eyes and give back what they gave to me for so long. So that's what I am trying to do now."