Hopeful wizards, dust off those wands. Hogwarts has come to Ithaca College.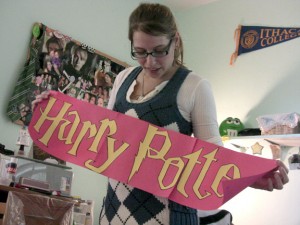 A new chapter of the Harry Potter Alliance,  a national organization that is a combination of a fan group and a social justice organization, started at the college this year.
The national HPA focuses on a variety of social issues, including genocide, literacy and equality in the LGBT community. The group also promotes "magical acts of kindness," or random good deeds.
More than 50 students attended the first meeting of the HPA on Sept. 28 in Textor 101.
Junior Monica Watson, club co-president, said the HPA channels fans' enthusiasm into positive causes.
"It has a lot of potential to garner support from young people who see social justice and volunteering as a little intimidating," Watson said. "The HPA kind of takes that away and makes it fun and entertaining to do."
Watson is also a member of the national HPA organization, which Andrew Slack, executive director, co-founded with Paul DeGeorge, a board member, five years ago in Sommerville, Mass. The idea behind the alliance was to emulate Dumbledore's Army, a group of students in the "Harry Potter" series that aimed to improve Hogwarts School and the wizarding world.
So far, the national HPA has raised money for regions like Haiti and Darfur and has donated thousands of books to charities. This summer, they won a $250,000 grant from Chase Morgan through their "HPA For the Win" campaign, in which fans of the organization voted for it receive the money.
Watson said the group would like to implement "magical acts of kindness" at the college on the last Friday of every month. She also said she would like to start a literacy campaign.
"You think 'Harry Potter' and literacy — they go hand in hand," Watson said. "That's something of extreme importance to me because books were such a huge part of my life and growing up."
Watson said she hopes to collaborate with the Tompkins County Public Library in the fall to start a book drive called Accio Books — a reference to the summoning spell in the "Harry Potter" series.
Senior Lena Weinstein, the college's HPA events coordinator, said "Harry Potter" fans have compared struggles in the books to human rights issues in the real world. For example, Weinstein said problems between wizards and non-wizards reflect prejudice and intolerance.
"'Harry Potter' has a lot of really awesome life lessons in it," Weinstein said. "There are a lot of issues that are brought up, like the mistreatment of muggles and mudbloods, that can be applied to situations that are happening today, like the anti-gay marriage stuff."
Weinstein is also active in "wrock," or wizard rock music. At the meeting, she performed an original song about character Neville Longbottom, "Basically the Man, Part II," on her ukulele.
The club retains some elements of the fandom. The HPA plans on hosting "Harry Potter" movie nights, and club members said they would like to be sorted into the four houses of Hogwarts: Gryffindor, Hufflepuff, Slytherin and Ravenclaw.
Wearing the green crest of Slytherin on her T-shirt, junior Emily Krempholtz, co-president of the group, said her personality fits perfectly with that house.
"Slytherins are badass, and I'm badass," Krempholtz said.
Krempholtz said she started reading the "Harry Potter" series in fourth grade, finishing the first three books within a week. She hopes the club will be a quirky and fun outlet for fandom and philanthropy.
"'Harry Potter' is just such a good way to get people involved in a great cause," she said. "I would just like to see this group be a really fun, positive presence on campus."
Freshman Michael Armstrong attended the meeting after reading about the HPA on Facebook. He said he was excited to be around Potter fans and to improve the community.
"I'm a fan of the series, and I figured that it was a sweet chance to do some good in the world and meet people with similar interests," he said.
Sophomore Sarah Matte, the club's treasurer, said she suspected many of the students came to the meeting thinking it was a typical fan club.
"You can only talk about the books so much," she said. "It's nice because it traps them, because you hear the words 'Harry Potter' and you're enticed, and then you can actually do social justice."
Krempholtz said as the club grows, she hopes more people take it seriously as a human rights organization.
"I would like people to know who we are and that we're not just a fan club," Krempholtz said. "We are a group that's doing some really great things for some really great people who need — in the name of Harry Potter."