While many Ithaca College students only venture to Cornell University to party and attend concerts, some students at the college go to Cornell several times a week to rehearse and perfect their passion for theater.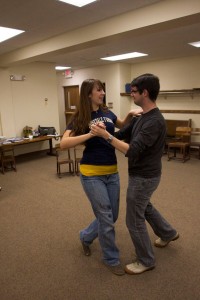 Melodramatics Theatre Company Inc. will present its 13th student-run musical, "Dirty Rotten Scoundrels," at 8 p.m. today through Saturday and next week from Thursday to Nov. 20 in Risley Theatre at Cornell University.
The Melodramatics Theatre Company Inc. opens its auditions to both Cornell University and Ithaca College students with the goal of producing diverse and exemplary shows.
This year's musical comedy follows two conmen's antics traveling along the French Riviera as they compete to swindle the money out of naïve Christine Colgate, an innocent American. Older, seasoned professional Lawrence faces off against young, arrogant Freddy in a bet to decide who gets to secure the territory for future cons and who has to leave town.
Sophomore Sarah Charles, who plays the female lead, Christine, said "Dirty Rotten Scoundrels" presents the lighter side of musical theater and gives the cast the opportunity to let loose and show off its funny side.
"It's not a show that really takes itself seriously, so I get to take risks and really put myself out there," Charles said.
Timothy Dyster, a junior at Cornell and assistant director, said this show takes a different direction than shows the Melodramatics have done in the past.
"There's a great change in tone in this show," he said. "It's much more alive, in-your-face comedy."
Bryan Botti, a senior at Cornell and director of the show, said beneath all the laughs lies the moral of the story, which is complicated.
"There is a certain truth under any story, even with all the glitz and glamour, and that truth is often problematically dark," Botti said. "The fact here is that the two guys are robbing these old ladies, but they do it with such style and grace that it seems OK, and we laugh at that. But in reality, they're thieves."
Senior Alex Mogil, who has performed with Melodramatics three times before and plays Andre, Lawrence's right-hand man, said this is the most light-hearted show he has ever done with the company. Because theatrical comedy can often be a hit or miss, Mogil said the cast is not taking anything for granted.
"With this show the biggest challenge is being prepared for people not to laugh," he said. "Practicing the scenes, we'll start laughing ourselves. It's so easy to get wrapped up in the idea that the audience is going to fall in love with the show."
Mogil said having cast members from Cornell and the college combine their specialties produces a balance in the troupe. While Cornell focuses on dramas, the college contributes a talent for musical theatre. He said the two skill sets come together to produce Melodramatics' musical productions.
The production is set in the modern day, and the action will take place on a colorful set that includes a grand staircase and several palm trees. The competition of con artistry concludes with a surprise ending.
One challenge that several cast members faced was mastering different accents for the show. Lawrence speaks with a British or German accent, depending on his victim and the nature of his con. Andre, an older French gentleman, speaks with a French accent. Mogil said mastering the speech wasn't an easy task.
"My accent was kind of scary when I first came in," said Mogil. "It was frustrating because at least British or German is very specific, where the French accent is so wandering."
"Dirty Rotten Scoundrels" as a comedy presents the cast of Melodramatics with the challenge of good timing. Dyster said the cast members perfected this through rigorous rehearsal that made them go above and beyond what was expected.
"It's all about finding new moments every time you perform a show and the willingness to give thought outside of the process," Dyster said.
Dyster said while he looks forward to the completion of the show, the troupe is always sad to see the curtain drop for the final time.
"There's a sense of accomplishment that you made it through six fantastic showings, but there's always a sadness because this group of people who you have essentially been spending 20 hours a week with for 12 weeks are no longer going to be a part of your daily life," Dyster said. "It's definitely a very bittersweet feeling."