From fighter pilots to roosters and papier–mâché masks to unicorn-like creatures, the Ithaca College mascot has never been clearly defined. But now the search is on for an official face of Bomber spirit to cheer and rally on the Blue and Gold's sidelines.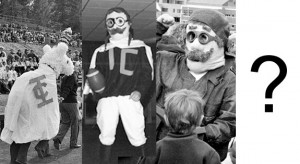 In 1937 students chose the name "Cayugas" to represent the college. There are many theories about where the name "Bombers" came from, but in 1940, according to the college archive website, the "Bombers" began to emerge in sports releases because Harold Jansen, a member of the publicity staff and sports writer for many newspapers, used the name so frequently in his stories that it eventually caught on and became the official name. Yet, the name has caused controversy throughout its history because some view it as offensive.
Kevin Gage '81 said he used to attend football games often and remembers a man dressed as a rooster running around the stands rallying support during his time at the college.
"The rooster would go in the stands and get picked up by the crowd and passed along, and it definitely created a lot of excitement," he said.
Gage said since his class thought having a rooster mascot was so strange and unrelated, they decided to find a costume maker in Collegetown to create another mascot. They designed, purchased and donated it to the school in 1981. That design turned into the Bombadier, an officially sanctioned mascot at the time that appeared at games until the early 2000s.
The college began accepting suggestions for the mascot Tuesday on the IC Mascot Search Blog. The Mascot Selection Task Force includes co-chairs Rachel Reuben, associate vice president of marketing communications, senior Susannah Faulkner, Mike Lindberg, associate director of intercollegiate athletics, and Dave Wohlhueter '60, along with other members of the campus community, who will choose the winning idea.
Reuben said the desire for a mascot is primarily student driven.
"We've never actually had an official mascot," Reuben said.  "Students have been asking for this for some period of time and especially for the last few months as we've been talking about this new branding and marketing initiative for the college."
Students have already begun submitting pictures and ideas on Twitter and the Mascot Blog. Ideas can be submitted until early January and can take any form — from rocks to mythical creatures — as long as the name is Bomber.
Lindberg said he has gotten a lot of student input, and the Task Force is not going to turn away any ideas.
"This campus offers a lot of creative people who are invested in this," he said. "I've already received a number of suggestions. Some are very humorous."
President Tom Rochon said at every other university he has worked, there has been a mascot that adds spirit to the community by showing up at events beyond athletics, such as student rallies.
"There's a little child in all of us, and there is something about reaching out and shaking hands with the mascot that just makes you feel part of a bigger community," he said. "We miss that at Ithaca College, and we will have that in the future."
Faulkner, who is also Student Government Association vice president of campus affairs, said having a unifying symbol will be easier for students to identify with.
"Once we have a defined logo or symbol for the college, it's going to be a lot easier to use on athletic jerseys, different signs around the college and brochures," she said. "We have heard time and time again from students how we don't have a physical, tangible mascot, so I'm really thrilled this is being taken care of on a bigger level than just our committee."
Others are not as enthusiastic about the search. Former SGA president Cornell Woodson '09 said he applauds the college for trying to get students more involved in campus activities but thinks it is approaching it the wrong way.
"We need to stick to the Ithaca College Bombers and build school spirit off of that," he said. "I wouldn't want to be called anything other than an Ithaca College Bomber and to say we're going to choose an animal, a vegetable or some sort of figure and call it Bomber, that's not the same."
Woodson said a mascot change might be hard to accept for alumni and students who are attached to the traditional Bombers as they are now.
"From an organizational standpoint, change is the hardest thing to accept, whether in a small family or a big organization," he said. "It's inevitable that a portion of the community is going to feel alienated."
The name "Bombers" has been the subject of debate for decades because of its war connotation. John Sadwith '72 said since the college is approaching the subject of a new mascot, they might want to consider a new name altogether.
"It was during Vietnam and a segment of the population felt the name 'The Bombers' just connoted war and violence," he said. "There's a world of nicknames out there, maybe there's one that is more appropriate."
In 1967, a "Pick-A-Mascot!" box was placed in The Ithacan, asking students to suggest a new nickname for the athletic teams. But as one 1963 Ithacan article put it: "Efforts to change the name of the Bombers went over like a dismantled DC-7."
Graduate student Liz Masucci, a member of the women's soccer team, said she supports having a mascot, because it would help ramp-up school spirit and give the college a more tangible identity.
"It would be fun to have a mascot running around the gym and the football field, and it would be a way to bring the community a bit closer together. We call it Bomber Nation for a reason."
The mascot will be revealed in Fall 2011 at the opening of the Athletics and Events Center.
Kevin Fish, SGA president, said he likes the idea of keeping the history of the "Bomber" but said it is important for students to have a physical mascot.
"This is a really good compromise and balance between starting fresh but keeping the old traditions and values as well," he said.