Participation rates have been on the rise since Ithaca College began giving all applicants access to IC Peers in hopes of using the social networking site to recruit prospective students.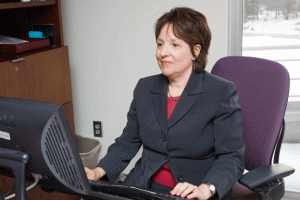 Eric Maguire, vice president of enrollment and communication at the college said the website was created in 2007 as a vehicle for college recruitment efforts. The website was modeled after Facebook and features personal walls, private messaging, groups and student forums.
From IC Peers' inception in 2007 to last year, the number of students registered climbed from 2,316 to 3,820 students.
Maguire said the website reached an all-time high this year, after the college gave access to all applicants — even those who had not yet been accepted to the college. As of Wednesday, Maguire said 5,800 students were using the website to connect to other accepted students, faculty, staff and student ambassadors, according to the Office of Recruitment Marketing.  Currently more than 130 user-generated groups have been created along with 1,000-plus wall posts and 200 forum posts.
The college is one of the few schools that has this kind of social networking platform. Bonny Griffith, associate director for recruitment marketing, said the website was designed to give the college a competitive edge.
"Students engage in a very closed environment, so it's easy for us to monitor," she said. "We can be proactive with students and set up systems that get people connected with events that are happening on campus, encourage them to take the next step and make the final decision."
A small group of 30 student ambassadors, 20 faculty and 90 staff are active on the site from all schools and key offices on campus, communicating with prospective students and monitoring registration, the conversations of students and tracking problems they encounter.
Griffith said the website has had great success with a 50 percent participation rate among students who were accepted.
"The students who are engaged the most in IC Peers are those who are most likely to come here and choose Ithaca," she said.  "So we know that if we get students into IC Peers and they really connect with each other and they are highly active in the community, they are much more likely to enroll."
Student ambassadors interact with students who have similar interests in order to see if they have any questions. Sophomore Colleen Cunha, a student ambassador, has communicated with more than 40 students since she joined IC Peers in November.
"I've only seen positive reactions," she said.  "All of the students that want to talk to me do so because they want to hear something from a student perspective."
Cunha said giving prospective students the opportunity to talk with current students can be helpful because it gives them access to someone at the college they can relate to more easily than faculty or staff.
"If you don't know anyone who goes here, you don't have anyone to ask," she said. "They are more comfortable when they get answers from me rather than the school."
Diane Gayeski, dean of the Roy H. Park School of Communications, said she uses the website to connect with accepted students, and spends an average of five hours each week on the site. Gayeski said she spends most of her time messaging students to see if they have any questions.
"It allows students to form a community before they even get on campus," she said. "It makes them feel more comfortable when they get here. It eases some of the transition."
Gayeski said the site allows her to learn how students communicate with each other and discover their motivations for applying to the college.  This offers helpful insight into how students make decisions about college.
"I don't normally get to talk to many prospective students given my time schedule," she said.  "I can go onto IC Peers, and it gives me a better sense of how students present them. It's interesting to me to see students corresponding with their peers."