When Tommy Dunne visited Lake Placid in 1997 to work on an article for Details magazine, he ended up zooming down an icy Olympic track at 87 mph.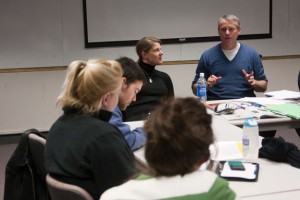 Dunne said meeting the Olympic luge team that summer was research for one of his favorite writing gigs.
"They let me take a run down the last four to five turns of the track which was a blast," he said. "I wished I could've started from higher, but they didn't want to injure a reporter."
Dunne worked at Details Magazine for nine years. Since his time at Details, he has worked for internationally renowned magazines like CosmoGirl, Seventeen and People.
Now, Dunne is bringing his real-world expertise to the classroom by teaching the course, "Social Entrepreneurship in Action: Creating a Green Living Magazine for Tompkins County."
Dunne joined the Ithaca College staff in 2009 as admission writer in the Department of Marketing Communications, where he writes and edits brochures, letters and other materials for recruitment marketing. Part of his job description is to edit for the college's Fuse magazine.
Dunne left Details in 1999 to pursue freelance writing and a part-time copy editor position for People magazine. Later that year, he got a job offer from CosmoGirl and became its managing editor.
Though Details was more directed toward an audience like himself, Dunne said working for Atoosa Rubenstein, then-editor in chief at CosmoGirl, made him realize the importance of connecting a magazine's content with its type of audience.
"It would drive the editors crazy when their manuscripts would come back from Atoosa with 'Too duh!' written in hot pink Sharpie," he said. "But Atoosa was able to summon the teenage girl inside her and make sure every page of the magazine spoke to that girl."
While working at CosmoGirl, he met his wife, Rebecca Barry. She said she was attracted to the aura he brought to the office.
"It was pretty instant," she said. "I joke and say, 'He was the only straight man in the office,' but that actually wasn't true; he really had a calming effect on everybody there."
Senior Meghan Swope, who works closely with Dunne as the web editor of Fuse, said he has been incredibly helpful in improving her editing and writing skills to better fit magazine style.
"I have to be meticulous and pay attention to detail when it comes to editing, and he has helped me become more efficient at that for sure," she said. "It is great that we have someone with that level of ability here at IC."
Dunne's class, in which students create and publish their own magazine, is part of the (IC)² initiative to provide integrated learning. Dunne takes on the role of publisher and editor in chief of the magazine, while Nick Kowalczyk, assistant professor of writing who also teaches the class, serves as the executive editor.
The class is a team-oriented media project that will give students real life experience working on a magazine, Kowalczyk said.
"The number of different duties that the students are doing and the number of different hats they are being asked to put on is going to make them really, really competitive job internship candidates," Kowalczyk said.
Before proposing the course last year, Dunne had already worked on a business plan for a national green living magazine. However, he said he had no financial backing to implement his idea. When the college announced it would fund a second round of projects for (IC)² classes this academic year, Dunne seized the opportunity for his idea.
"I thought this might be a way to get a local version of my magazine produced," Dunne said.
Dunne said he hopes the class's magazine, which he has tentatively titled "Fresh Dirt Ithaca," will eventually expand beyond Ithaca.
"My dream is to have it create a national monthly magazine and partner with journalism schools to produce quarterly regional publications," Dunne said.
Dunne said he and Kowalczyk are currently working on a proposal to see if they can get more (IC)² funding to continue the class next semester.
Senior writing major Luka Starmer said he is taking the class for the publishing opportunity and the inside scoop it offers about the magazine business.
"The class isn't run like a class, it is more like a business meeting and all along the way we are learning as we go," Starmer said. "[Dunne] feels more like your editor and your boss."