Finding a parking space can be troublesome in Ithaca as it is, but today's National Conference on Undergraduate Research and a routine street cleaning could make finding a spot on South Hill even more of a hassle for faculty and students.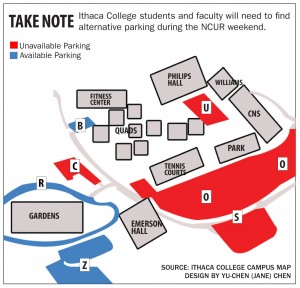 NCUR will significantly reduce parking spaces available to Ithaca College students, faculty and staff and force some to find alternative parking and travel arrangements.
When the college made its bid for the conference three years ago, Marian Brown, NCUR executive board member and special assistant to the provost,  said it expected about 600 additional spaces from the not-yet-competed Athletics & Events Center.
The college plans to restrict the largest campus parking lots to NCUR participants only. O-Lot and S-Lot behind the Roy H. Park School of Communications and U-Lot in front of Philips Hall are restricted today through 2 p.m. Saturday. G-Lot behind the Whalen Center, C-Lot near the Garden Apartments and B-Lot by Lyon Hall will have limited access to non-participants.
Brown said the college expects about 3,000 people to attend the conference but does not yet know how many people will bring vehicles.
Kathy Lesiuk, parking services assistant for parking and traffic services in the Office of Public Safety, said the office is unsure of the number of vehicles coming, and there should be enough space for students to park on campus farther from academic buildings, such as in lots for the Terraces and Circle Apartments.
Brown said the college is not asking much from students because they can easily find alternative transportation or park in the outlying lots.
"We're not asking them to park around town and get here, we're asking them to park 10 minutes away," she said.
The campus community can take advantage of shuttles that will run between Z-Lot and Y-Lot to Textor Hall today and Friday.
The threat of fewer parking spaces has  caused some students to plan ahead to minimize disruptions to their week.
Sophomore Bobby Savino, who lives in the Garden Apartments, said he plans to leave his car in the R-lot surrounding Gardens for the duration of the conference to ensure he will not lose his space.
Senior Josh Canu said he lives off-campus but has to be at the college for class and work during the conference.
"My plan is on Wednesday evening to park my car at Gardens, get a ride home from my friend so that on Wednesday — when I leave campus and have to rush from work to class and have to change and shower — I won't have to walk," he said.
Rebecca Lesses, associate professor of Jewish studies, said she will leave her car at home and take the bus if she decides to come to campus during NCUR.
"I live right in downtown so it's not a big hassle for me," she said.
Adding to the NCUR restrictions, the City of Ithaca will be cleaning certain roads on South Hill, which will require some residents to find alternative parking for 24-hour periods until April 19.
Ray Benjamin, assistant supervisor of streets and facilities for the City of Ithaca, said those who must move their car for the street cleaning should look into purchasing an extended parking garage permit.
Benjamin said cleaning takes place each spring to remove debris left from the winter months. He said he was never told of the conference, and the cleaning would
occur as scheduled.
"We try to work around these things and we understand them," he said. "There's not a lot we can do to change the whole process without rearranging the whole schedule."
Brown said no one knows exactly what NCUR will bring, but the college community should look at alternative methods of getting to campus in the following days.
"I guess we'll know [today] what kind of plans we have," Brown said.