While other 20-somethings are struggling to find $32,000 to attend college, The Jersey Shore's Snooki was paid $32,000 just to give a speech at Rutgers University.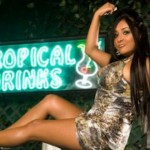 The reality television star was paid $2,000 more than Nobel and Pulitzer Prize winning author Toni Morrison to speak at graduation on May 15. (though I do have to admit that I'm having trouble deciding what's harder to get through: an episode of Jersey Shore or Beloved).
While the college is defending itself by saying it brings entertainment in addition to scholarly presentation, it's safe to say Rutgers could have found better entertainment at a lower cost. Snookie spent her time teaching the 1,000 students who attended how to do the signature Jersey Shore" first pump and style her hair into the iconic "pouf." Additionally telling students to "study hard, but party harder."
Once again, Snookie gives the Garden State a bad rap.