An animated sperm swims off screen for a moment, returning with a bouquet of flowers and a gentleman's bowler adorning its head. Satisfied, the egg in question accepts her gift and the two quickly unite.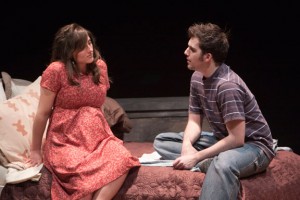 So begins the Ithaca College production of "Baby," a Tony Award-nominated musical that follows three separate couples as they embark on the journey to parenthood. "Baby" balances humor with occasional and well-placed solemnity. The play addresses weighty issues such as conception, miscarriage, infertility, masculinity, pleasure, parenthood, aging, love and sacrifice with a pleasing overtone of optimism.
"Baby" was adapted from the book by Sybille Pearson, which was based off of a story developed with Susan Yankowitz. "Baby" is a treat for the ears, with witty lyrics written by Richard Maltby Jr. and contemporary upbeat music by David Shire.
The audience is first introduced to Lizzie (senior Emma Poole) and Danny (senior Steve Moore), two aspiring student musicians. Then there's Pam (senior Meg Schneider) and Nick (sophomore Ryan MacConnell), an athletic couple in their thirties. There's also Arlene (senior Amber Wood) and Alan (senior Tim Quartier), who have already been parents three times over.
Lee Byron, professor and chair of the theater arts department, directs a cast that presents itself as surprisingly well-informed about the trials and tribulations of pregnancy and parenthood. This results in convincing performances that add an overlaying feeling of familiarity to each character's experiences. Wood and Quartier's performances add a crucial level of believability when assuming the roles of their older characters, which continuously evoke signs of empathy from the audience.
While Schneider flawlessly manages her character's fluctuation of tone between serious and amusing, MacConnell's tendency to overact with over-the-top facial expressions sometimes distracts from his character's honest tenderness.
All six of the main actors successfully delivered their humor-laced lyrics with equal parts wit and technical skill. Moore's rough voice matched the young, rock 'n' roll edge of his character, while Quartier's smooth and even notes corresponded perfectly with his character's distinguished maturity. Arguably the most enjoyable parts of the performance were the songs, such as "We Start Today" and "Baby, Baby, Baby," where all three couples sang together on stage in separate areas, resulting in overlapping vocals and lyrics.
Except for a few moments of awkward basketball choreography, the actors did a good job navigating the somewhat limited stage space of Clark Theater while still taking care to not let their dancing detract from their singing. The fun and seductive movement that slyly bounced between Poole and Moore especially spoke to their young and passionate characters.
Impressive attention to detail was employed on set, especially with regard to the lighting. Soft pink and blue hues often danced across the floor of the theater, recalling common symbols of pregnancy and gender. When Wood sings "Patterns," a heartfelt testament to the painful repetition of middle-age suburban life, an intricate lattice pattern is projected across her face and surroundings by the warm overhead lights.
While each couple faces their own twists and turns while negotiating pregnancy and parenthood throughout the play, it is clear "Baby" is, in part, a testimony to the universality of the experience of bringing life into the world. Regardless of age, everyone in the audience will find something to relate to in this dynamic musical.
"Baby" will run through Saturday in the Clark Theater. Tickets are $8 for students and $11 for adults.
3 out of 4 stars